Chinese state media has hit back at reports that its slowing economy might gradually be heading towards collapse, saying that lawmakers are moving to tackle the "various challenges" facing the country.
In an article published by the Global Times, an English-language newspaper controlled by the Chinese Communist Party, local reporters talked of "grim outlooks for the Chinese economy" that were being hyped by foreign media "amid some challenges" facing the country.
China is experiencing an economic slowdown that experts told Newsweek is likely to become the country's new reality after decades of economic boom.
In July, China's annual rate of GDP growth was reported to be slowing and stabilizing at around 4 percent—a level far below the incredible growth the country has experienced in the past 20 years.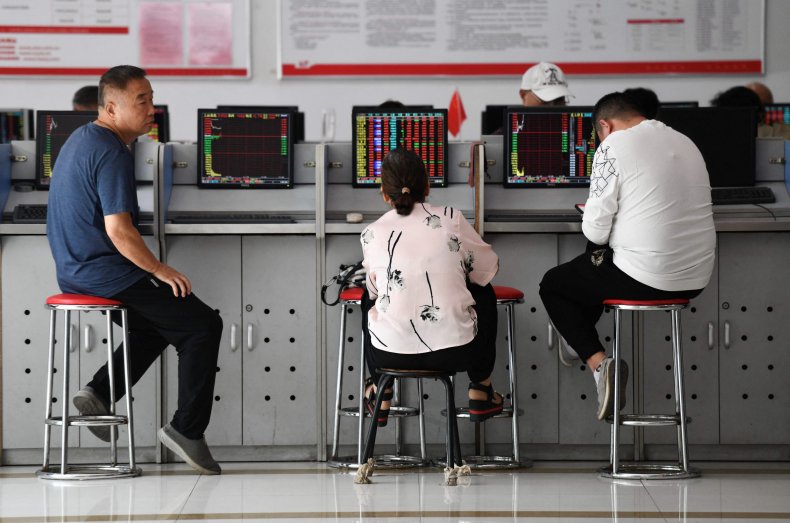 The slowdown has been driven "mainly by excessive investment in the property sector and excessive local government spending on infrastructure," Michael Pettis, professor of finance at the Guanghua School of Management at Peking University in Beijing, told Newsweek.
"China has built probably too much property, the developers are overleveraged," Neil Shearing, group chief economist at economic research company Capital Economics, told Newsweek. "The property sector as a share of GDP of anywhere between 15 to 20 percent, depending on how you measure it—that's bigger than anything we have seen even at the height of the [U.S.] property bubble."
The U.S. property sector currently has a GDP a share of about 5 percent, according to Investopedia.
Problems in the property sector in China, together with a weaker currency, less trade, and high youth unemployment, could precipitate a broader financial crisis in the country—unless Chinese authorities put a "firewall around developers," according to Shearing.
Pettis thinks authorities will intervene to stop the country's economy from crashing.
"Many analysts have concluded that China is on the verge of a crisis, but they do not understand China's heavily controlled financial system, in which regulators can restructure liabilities almost at will," Pettis said.
"China is very unlikely to suffer from a financial crisis or sudden collapse. Much more likely is many years of slowing growth as it grinds away at debt and slowly rebalances demand towards more consumption and less nonproductive investment," he said.
The Global Times puts forward a similar view.
"Chinese policymakers have moved swiftly to tackle various challenges in areas such as the private economy, consumption, and the capital market to boost growth," the Global Times said.
The Global Times also pointed out that, despite a slowdown, China's economy was still forecast to grow by much more than the U.S. this year. The IMF said that the Chinese economy is expected to grow by 5.2 percent in 2023, while the forecast for the American economy is 1.8 percent.
But both Shearing and Pettis agree that, despite government intervention, China is heading toward a structural decline and that its levels of growth won't reach levels known in the past.
The comments come on the back of U.S. Commerce Secretary Gina Raimondo's four-day trip to China, which began on Monday. Yesterday, the U.S. and China announced they will create working groups on commerce and trade issues to seek stability in their cooperation.
(Except for the headline, this story has not been edited by PostX News and is published from a syndicated feed.)