A stunning video shared on social media shows the rare St. Elmo's fire weather phenomenon dazzling the skies over the vicinity of Tampa, Florida, as Hurricane Idalia creeps closer.
The jaw-dropping clip was captured from a U.S. military plane evacuating from the Tampa area on Monday night as Idalia, a Category 2 as of Tuesday but expected to intensify into a Category 4 overnight, stalks Florida's Gulf Coast and Panhandle. The "life-threatening" storm is expected to bring devastating storm surge, heavy rainfall and damaging winds through the Sunshine State on Wednesday.
As the hurricane closes in, ideal conditions were set for the meteorological rarity. The fascinating and colorful discharge of atmospheric electricity looks similar to lightning but is not dangerous, meteorologists say.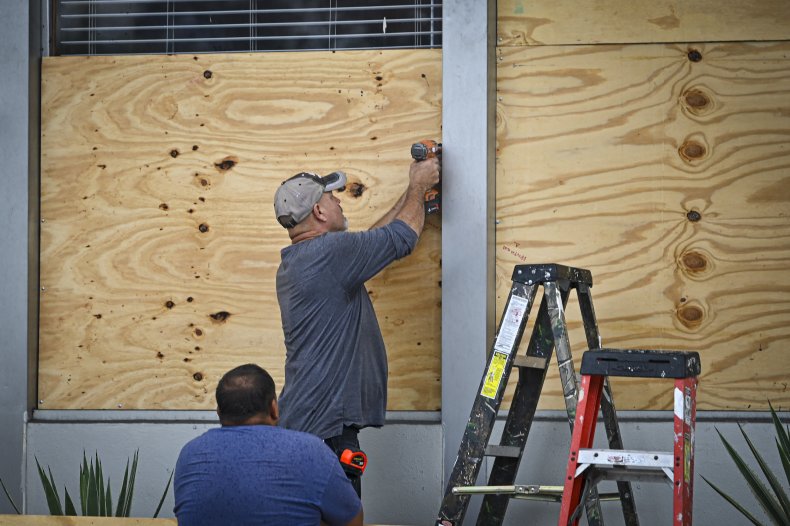 St. Elmo's fire, also referred to as corona discharge, generally occurs during thunderstorms, according to the National Weather Service (NWS). When a pointed or sharp object, such as a ship's mast or an aircraft's wing, encounters an "extraordinarily high" electrical field and a large number of electrons, those electrons can glow in various colors, "like a neon sign, resulting in this rare phenomenon," the NWS states. The name St. Elmo is a derivation of St. Erasmus of Formia, patron saint of sailors, and the light show often serves as a warning that stormy conditions are near.
Alex Tardy, a warning coordination meteorologist for the NWS, told Newsweek in an email Tuesday night that he could not personally validate the video clip but said the astonishing effect is something that people "typically don't see."
"In this case, there is no charge coming from the cloud, but only from the object, so high transmission lines and lightning rods can produce this 'Corona' as well and it can be simulated in an experiment, such as something that might be displayed in a museum."
Tardy told Newsweek that despite the wild appearance, St. Elmo's fire isn't threatening and can serve as a warning.
"Overall, I haven't heard of it being dangerous and aircraft should be able to resist any impact from it similar to a lightning strike," Tardy said. "Typically, it can signal that there's about to be a lightning strike."
As members of the U.S. Air Force's 50th Air Refueling Squadron were evacuating from MacDill Air Force Base ahead of the hurricane, they captured a nearly 30-second clip of the "lightning-like" weather phenomenon, also known as Witchfire, illuminating the sky with blasts of crackling light. It's unclear when the video was recorded but it was shared on X, formerly Twitter, by the base's account shortly after 4:30 p.m. Tuesday and reposted by AccuWeather.
"All aircraft on the installation have been evacuated/secured in preparation for #HurricaneIdalia," MacDill AFB posted Tuesday. "During the evacuation, the 50th ARS recorded St. Elmo's fire, a weather phenomenon in which luminous plasma is created in an atmospheric electric field."
In response to Newsweek's question of why the rare phenomenon would occur, Tardy said Idalia created favorable conditions.
"Nitrogen and oxygen in the air will cause the glow so it's probably on the leading edge of the hurricane rain bands," Tardy said.
(Except for the headline, this story has not been edited by PostX News and is published from a syndicated feed.)