The United States could be plunged into "civil war" if the office of Fulton County District Attorney Fani Willis is not defunded over the indictment of former President Donald Trump, according to a Republican lawmaker in Georgia.
Earlier this month, pro-Trump State Senator Colton Moore called on Georgia Governor Brian Kemp—a fellow Republican who has been in the former president's crosshairs since failing to reverse President Joe Biden's 2020 election win—to declare an emergency legislative session with the purpose of investigating and potentially impeaching Willis.
During a Tuesday interview on former Trump adviser Steve Bannon's War Room podcast, Moore claimed that the indictment of Trump and his 18 co-defendants meant that Fulton County was "just like Nazi Germany." While recalling a conversation with a fellow state senator, Moore suggested that he would be forced to take up arms if action is not taken against Willis.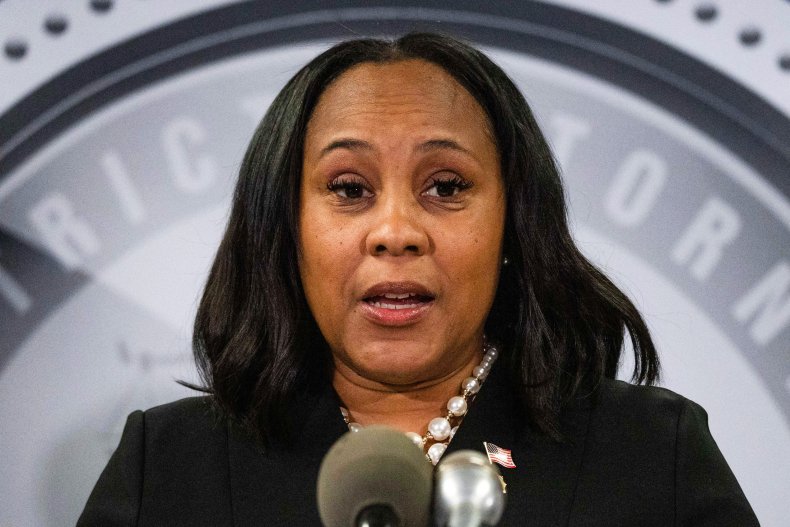 "I said, listen, we've got to put our heads together and figure this out," Moore recalled. "We need to be taking action right now. Because if we don't, our constituencies are gonna be fighting it in the streets."
"Do you want a civil war?" he continued. "I don't want a civil war. I don't want to have to draw my rifle. I want to make this problem go away with my legislative means of doing so. And the first step to getting that done is defunding Fani Willis of any Georgia tax dollars."
Moore went on to say that he hoped Republican U.S. Representatives Jim Jordan and Andy Biggs would block Willis from receiving any federal funds, arguing that the district attorney was "not upholding her oath to the Constitution."
Newsweek reached out for comment to the offices of Willis and Moore via email on Tuesday night.
Moore also claimed that Republicans "have the legislative authority to call in the state troopers and bring these people in." He lashed out at his fellow Republican lawmakers for making "every excuse in the book" to not back his demand for a special session, accusing them of being "totally afraid" of Kemp.
The chances of Moore's push for a special session actually succeeding may be low, as the move would require either Kemp's approval or a three-fifths majority in both the Georgia House and Senate. The governor has repeatedly denounced Trump's unfounded claims of a "rigged" election, while Republicans lack the required majorities in the legislature.
A new commission with the power to remove local Georgia prosecutors who do not fulfill their "constitutional and statutory duties," signed into law by Kemp in May, is set to convene on October 1. Action could potentially be taken against Willis via the commission, although successfully removing her from office or stopping the prosecution of Trump is likely a long shot.
Trump is facing 13 felony counts in Fulton County, accused of plotting to overturn the 2020 election result. The former president maintains his innocence, claiming that all four of his federal and state criminal indictments, amounting to a total of 91 felony charges, are part of a political "witch hunt."
(Except for the headline, this story has not been edited by PostX News and is published from a syndicated feed.)