For the second time, Alexa Bliss has been distracted by a Bray Wyatt logo flashed across the screen during a backstage interview. What's up here?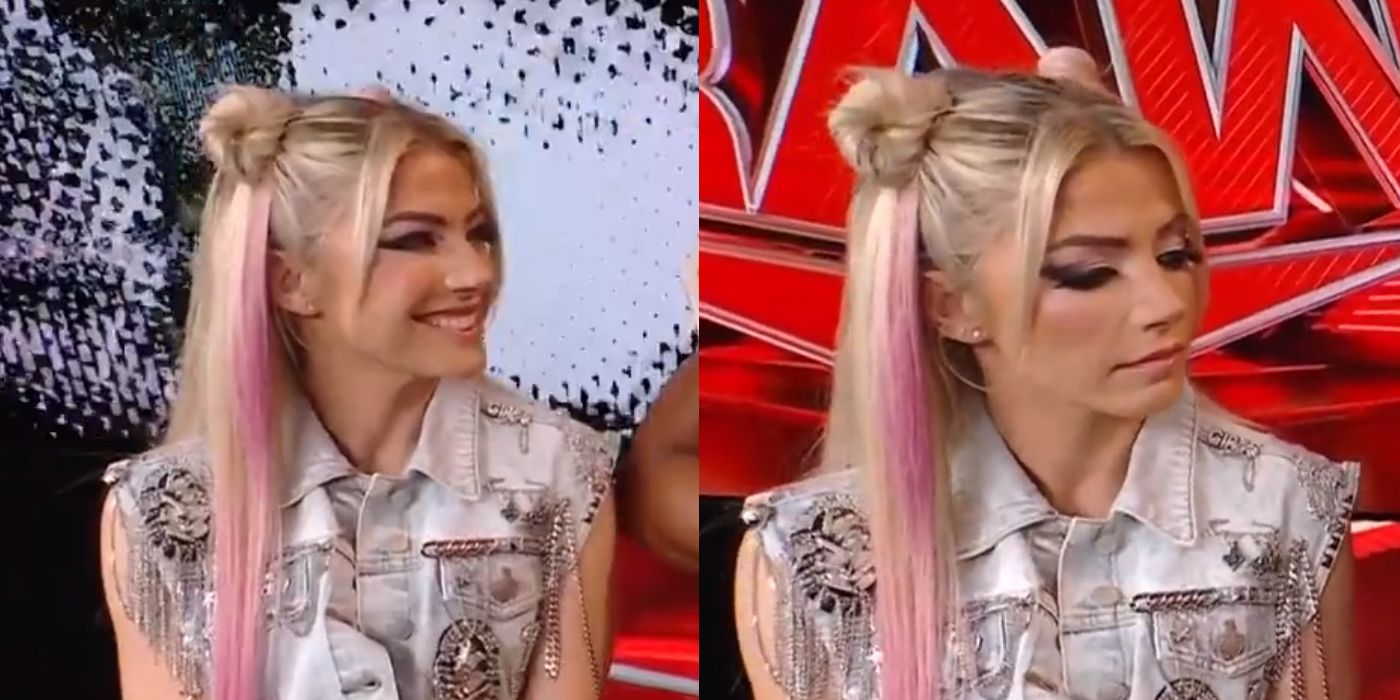 Something is going on with Alexa Bliss. For the second time in a few weeks, Bray Wyatt's logo flashed behind Bliss during a backstage interview and she looked distracted throughout the segments. On Monday night, not only was she mentally missing in action during an interview, but her teammates and friends noticed she was off, with the Monday Night Raw announce crew pointing out that she had an interesting response to a very simple question.
It's not clear where Bliss now fits with the storyline that is being told on SmackDown with Wyatt, but it's hard to ignore her past with the WWE Superstar. She was a big part of his former character and it appears WWE is teasing the idea that this time in her life hasn't completely left her stream of consciousness. Fans are asking what is going through that twisted mind of Alexa Bliss? Others want to know if Wyatt is doing some kind of voodoo on her and if a heel turn might be in the works?
Bliss has been an important ally to Bianca Belair in recent weeks, but there's an underlying feeling among the WWE Universe that she's not achieving her fullest potential as a talent on the Raw roster. Bliss and Asuka are seen as somewhat of an afterthought in the women's division and when you consider her drawing power and the emotional connection fans have to her, it would make sense for WWE to give her an elevated role and more focus as a singles competitor. Whatever this thing is with Wyatt, maybe that's where WWE is going.
Related: Alexa Bliss: "It's Nice To See New People Hold Titles"
How Will They Work This In?
If the plan is to link Wyatt and Bliss back up again, there are a couple of questions worth asking. First, will she be part of the rumored WWE Draft that is likely to take place in the coming months/ Second, how does her relationship with Wyatt work? He seems to be struggling enough with himself on the blue brand. A friend doesn't necessarily seem to make a lot of storyline sense right now.
TheSportster Podcast has returned! Check out latest episodes of the show where Jim Parsons and Norman Quarrinton cover the latest news and events happening in the worlds of WWE, AEW and more!
(Except for the headline, this story has not been edited by PostX News and is published from a syndicated feed.)