Two people are dead, and four others were injured after a Broward Sheriff's Office Fire Rescue helicopter crashed into an apartment complex in Pompano Beach on Monday.
According to the Broward Sheriff Gregory Tony, one of the deceased victims was a 19-year veteran of the agency, Fire Rescue Capt. Terryson Jackson, 50.
Sheriff Tony described Captain Jackson as a "true rock star" and "one of the best" at a news conference hours after the crash Monday morning.
In a video posted on BSO's Facebook page in February 2020, Jackson was featured in honor of Black History Month where he spoke about his background.
"My mom's a nurse, my dad's a nurse, so I always knew that I wanted to be in the medical industry. I just didn't realize how. As a BSO medic, I get to impact my community every day," he said.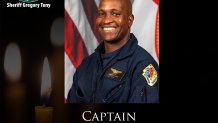 The other deceased victim was an adult woman who was in her home when the helicopter crashed, but her identity has not been released until her family is notified, Tony said.
The four people injured were taken to the Broward Health North hospital where they were listed in fair condition and do not have life threatening injuries, according to a report from the Broward Sheriff's Office.
Two of the injured are members of the helicopter flight crew that managed to escape the crash:
Mikael "Mike" Chaguaceda, 31 years old, who has been with the agency for five years
Daron Roche, the pilot of the aircraft who has been with BSO for four years
According to the Broward Sheriff's Office, the other two people injured were inside their apartment when the helicopter went down.
Family members said the two are brothers who tried to help the victims trapped inside the helicopter. They were identified as Lorenzo Snell and Terran Vandiver.
"They were able to climb out of a window and make it to the garbage bin. When they got behind there, the plane exploded," said Quiana Carter, the sister of the two civilians injured.
"My brother Lorenzo tried to help one of the passengers get out. He said that the plane was right there and the propeller was there and he just couldn't get to him," she added.
Family members told NBC6 that both men were in good spirits while they were recovering at the hospital.
The FAA and the National Transportation Safety Board are investigating the cause of the crash.
(Except for the headline, this story has not been edited by PostX News and is published from a syndicated feed.)