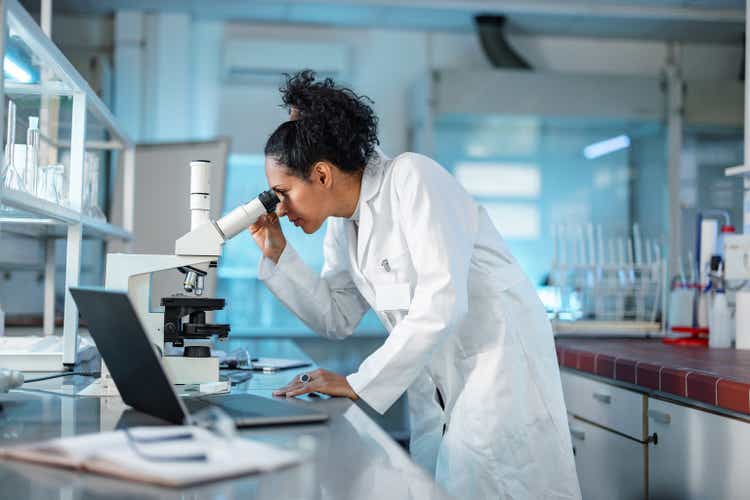 A Quick Take On Neumora Therapeutics
Neumora Therapeutics, Inc. (NMRA) as filed to raise $100 million in an IPO of its common stock, according to an SEC S-1 registration statement.
The company is a clinical-stage biopharma developing drug treatment candidates for various brain disorders and diseases.
NMRA has a strong syndicate of life science venture capital investors and is well-capitalized.
I'll provide an update when we learn more IPO details.
Neumora Overview
Watertown, Massachusetts-based Neumora Therapeutics, Inc. was founded to develop treatments for serious brain diseases, neuropsychiatric disorders, and neurodegenerative diseases.
Management is headed by President and CEO Henry O. Gosebruch, who has been with the firm since July 2023 and was previously a Venture Partner at noted life science venture capital firm ARCH Venture Partners. He was also EVP and Chief Strategy Officer at AbbVie, a major global pharmaceutical company.
The firm's lead candidate, NMRA-140, is a Phase 3 stage drug candidate being developed for the treatment of Major Depressive Disorder [MDD] and Bipolar Depression (entering Phase 2).
Phase 1 trial candidate NMRA-511 is being tested for the treatment of agitation in patients with Alzheimer's Disease.
The company has other candidates in preclinical stages for the treatment of schizophrenia, ALS and Parkinson's Disease.
Below is the current status of the company's drug development pipeline: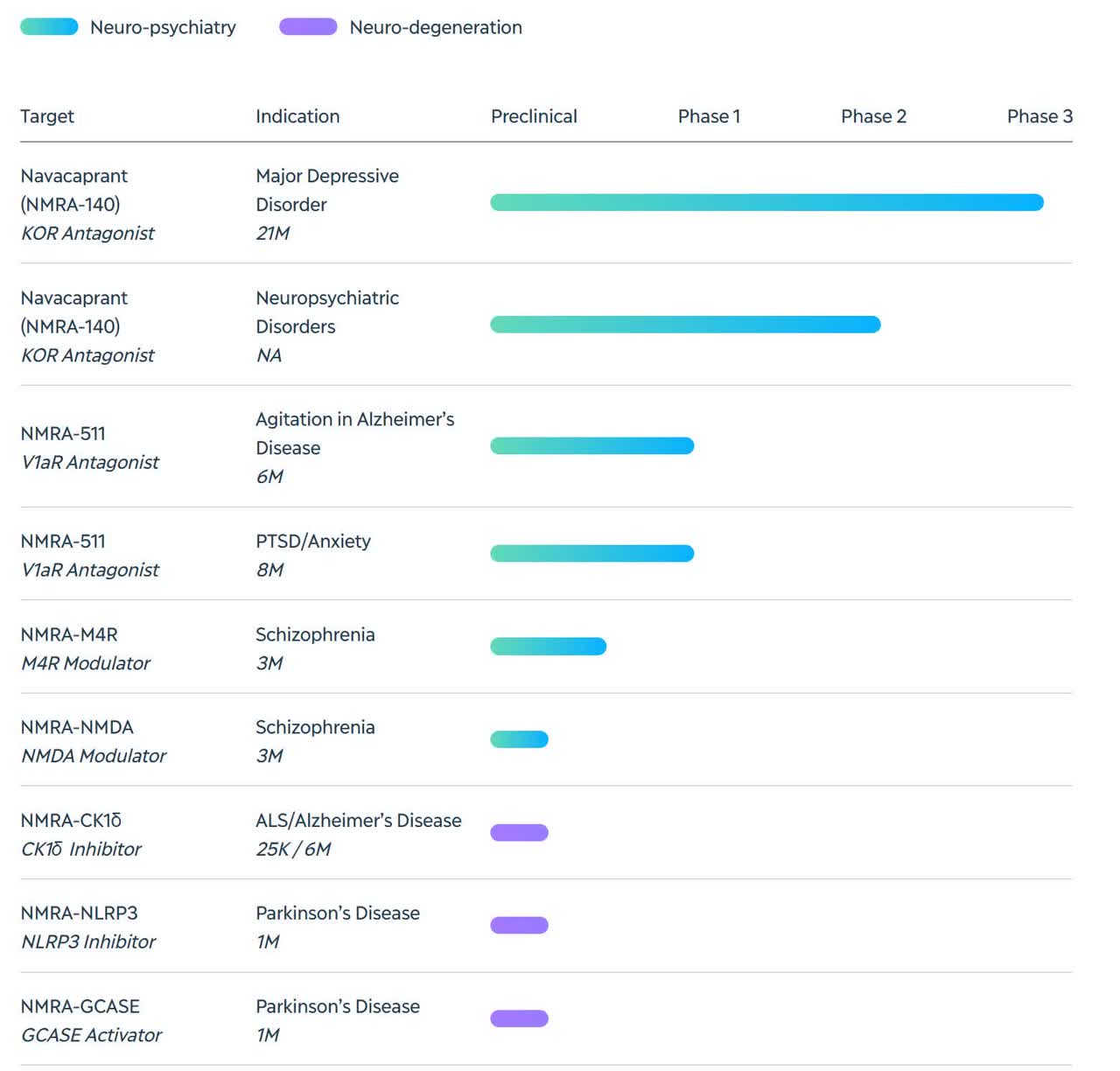 Neumora has booked fair market value investment of approximately $872 million as of June 30, 2023, from investors, including Amgen, ARCH Venture Partners, Biomatics Capital Partners and SoftBank.
Neumora's Market & Competition
According to a 2023 market research report by Future Market Insights, the global market from depression treatment was an estimated $10.1 billion in 2022 and is forecasted to rise to $16.8 billion in 2032.
This represents a forecast CAGR (Compound Annual Growth Rate) of CAGR (Compound Annual Growth Rate) of 5.2% from 2023 to 2030.
Key elements driving this expected growth are a growing prevalence of mental health disorders worldwide, 'a 13% increase in mental health conditions and other depressive disorders in the last decade.'
Also, factors affecting the demand for treatments include "demographic changes, environmental conditions and increasing mental stress."
Major competitive vendors that provide or are developing related treatments include the following companies:
Cerevel Therapeutics

Sage Therapeutics

Karuna Therapeutics

Prothena

ACADIA Pharmaceuticals

Axsome Therapeutics

Neurocrine Biosciences

Intra-Cellular Therapies.
The firm's pipeline of drug candidates addresses other potentially large markets.
Neumora Therapeutics Financial Status
The firm's recent financial results are typical of a clinical-stage biopharma in that they feature no revenue and significant R&D and G&A expenses associated with its pipeline of potential treatments.
Below are the company's financial results for the past two calendar years: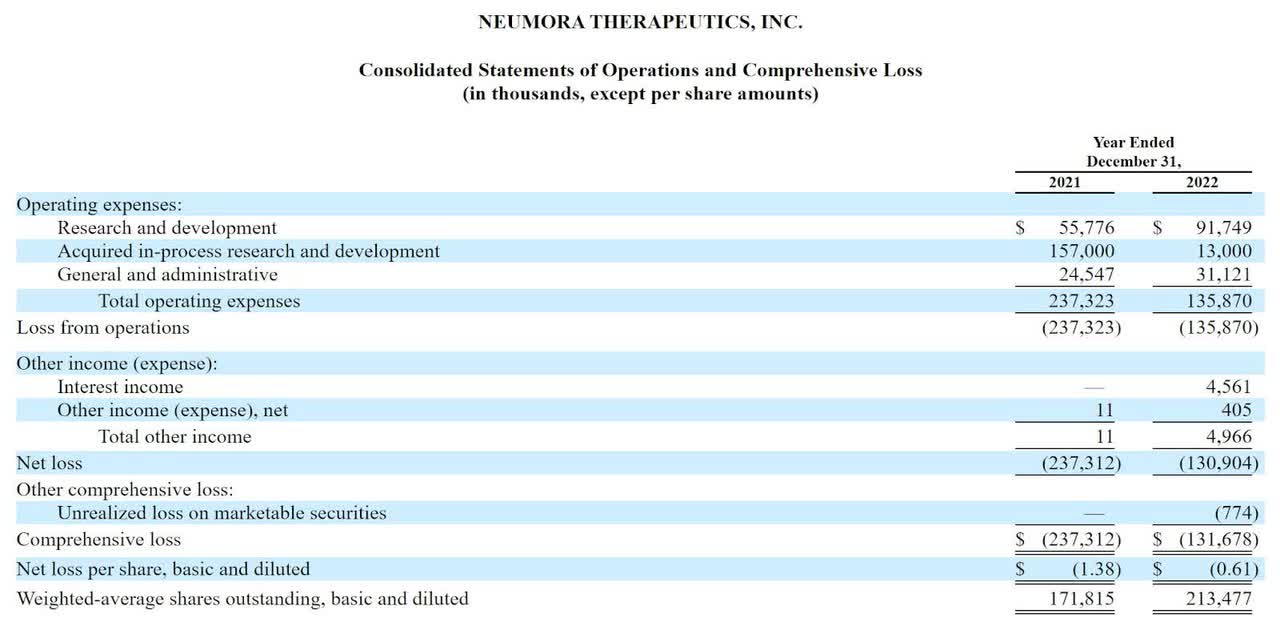 As of June 30, 2023, the company had $324.2 million in cash, equivalents and short-term marketable securities and $29.8 million in total liabilities.
Neumora Therapeutics IPO Details
Neumora intends to raise $100 million in gross proceeds from an IPO of its common stock, although the final figure may be significantly higher.
No existing shareholders have indicated an interest in purchasing shares at the IPO price, although this element may become a feature of the IPO if disclosed in a future filing.
Management says the firm qualifies as an "emerging growth company" as defined by the 2012 JOBS Act and may elect to take advantage of reduced public company reporting requirements; prospective shareholders would receive less information for the IPO and, in the future, as a publicly-held company within the requirements of the Act.
The company also claims to be a "smaller reporting company," meaning it may be exempt from the more stringent financial reporting requirements before and after an IPO. For a non-exhaustive comparison of emerging growth company requirements and smaller reporting company reporting and related requirements, view a summary here.
Management says it will use the net proceeds from the IPO as follows:
to fund the clinical and preclinical development of our current programs;

to fund research and development activities for additional programs; and

the remainder for working capital and other general corporate purposes.

We may also use a portion of the net proceeds to in-license, acquire, or invest in, complementary technologies, assets, or intellectual property. We regularly evaluate strategic opportunities; however, we have no current commitments to enter into any such license arrangements or acquisition agreements or to make any such investments.

The net proceeds from this offering, together with our existing cash, cash equivalents and marketable securities, will not be sufficient to fund any of our product candidates through regulatory approval, and we anticipate needing to raise additional capital to complete the development of and commercialize our product candidates.
Management's presentation of the company roadshow is not available.
Regarding outstanding legal proceedings, management said the firm is "not currently a party to any material legal proceedings."
Listed bookrunners of the IPO are J.P. Morgan, BofA Securities, Stifel, Guggenheim Securities, RBC Capital Markets and William Blair.
Commentary About Neumora's IPO
NMRA is seeking U.S. public capital market investment to continue its research and development of its pipeline of novel brain-targeted therapeutics.
The firm's lead candidate, NMRA-140, is a Phase 3 stage drug candidate being developed for the treatment of Major Depressive Disorder [MDD] and Bipolar Depression (entering Phase 2).
The market opportunity for brain-oriented disorders and disease drug treatments is very large and likely to grow substantially in the coming years, so the firm is tackling large markets with unmet needs.
Management has disclosed a major pharma firm collaboration with Amgen, both in terms of ongoing collaboration and the in-licensing of technologies from Amgen and for which NMRA is obligated to pay up to $720 million in milestone payments in the aggregate if successful.
Also, the firm will be required to pay single-digit royalties on potential future net revenues worldwide.
Additionally, the firm is obligated to pay $422 million in development and commercial milestone payments to Vanderbilt University and mid-single-digit royalties on future net revenues.
Note management's warning:
"In order to satisfy our obligations to make these payments, if and when they are triggered, we may need to issue equity or convertible debt securities that may cause dilution to our stockholders, or we may use our existing cash or incur debt obligations to satisfy the payment obligations in cash, which may adversely affect our financial position. In addition, these obligations may impede our ability to raise money in future public offerings of debt or equity securities or to obtain a third-party line of credit."
The company's investor syndicate includes noted life science venture capital firms as well as collaboration partner Amgen.
J.P. Morgan is the lead underwriter, and the seven IPOs led by the firm over the last 12-month period have generated an average return of 20.5% since their IPO. This is a mid-tier performance for all major underwriters during the period.
When we learn more about the IPO and the firm's valuation expectations, I'll provide a final opinion.
Expected IPO Pricing Date: To be announced.
(Except for the headline, this story has not been edited by PostX News and is published from a syndicated feed.)