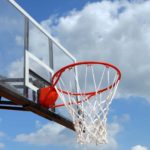 (NK frosh win)
The North Knox boys' freshman team defeated Owen Valley last night, 59-38. Four players were in double figures, with Rylan Cardinal leading with 14. Carson Goforth had 13, with Camden McCory and Rylan Oxby adding 10 each. Will Arnold had nine. The North Knox freshmen move o 1-1 with the win.
(CMS 7th 8th girls)
The Clark Middle School girls teams both lost to Haubstadt. The 7th grade lost 24-20, with Lily Wehrman leading with 12. The 8th grade slips to 2-1, with a 37-23 defeat. Cami Tredway had 8 to lead the way, while Brylee Quinett scored 5.
CMS 7th boys)
The Clark Middle School 7th grade team defeated Haubstadt 40-15. A 26-2 advantage in the middle 2 quarters led to the win.
Carson Sanders led with 21 points for CMS, while Carson McCormick pulled ten rebounds. In 1 quarter of 7-B play, CMS tied Haubstadt 8-8.
(CMS 8th boys)
The Clark Middle School 8th grade boys lost to Haubstadt 51-21, to send the 8th grade record to 2-3. Colton York and Justice Johnson had 6 points apiece for C=-M-S. The Alices took the 8-B quarter 14-11.
(Except for the headline, this story has not been edited by PostX News and is published from a syndicated feed.)