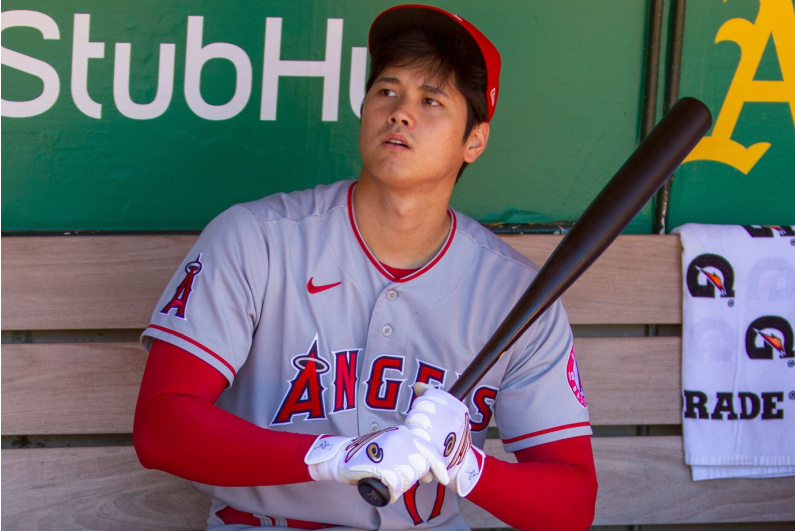 Shohei Ohtani will be a free agent in the offseason and his next team will instantly become a World Series favorite in betting odds. [Image: Shutterstock.com]
History in the waiting?
Shohei Ohtani has a torn UCL—that much is true—but he's still in line to land the largest MLB contract ever and will inevitably make his next team relevant in World Series odds.
could still secure the largest payout in the history of professional baseball
Ohtani's injury, suffered in the first leg of a double-header against the Cincinnati Reds last Wednesday, will cost him many millions of dollars when he hits the open market this offseason. But the Los Angeles Angels' general manager believes he will pitch again, and many insiders believe he could still secure the largest payout in the history of professional baseball.
History has shown that teams that sign players to massively lucrative contracts rise in World Series odds instantly. But just how far will Ohtani's new team rise if he does leave the Angels?
Influence of top-paid players
The richest contracts in MLB history belong to New York Yankees' slugger Aaron Judge, Philadelphia Phillies' star Bryce Harper, Texas Rangers' shortstop Corey Seager, Yankees' ace Gerrit Cole, and there's a two-way tie between San Diego Padres' catalyst Manny Machado and Phillies' shortstop Trea Turner.
The contracts range from Judge's nine-year, $360m deal to Machado and Turner's $300m deals over 10 and 11 years, respectively.
All but one of the signings caused their team's World Series odds to shorten compared to the prior year – the only one that didn't was Cole in 2019, as the Yankees remained the favorites at +600.
skyrocketed from +8000 in World Series odds the previous year to +850
The most notable increase in odds came in 2019 when Harper headlined a crop of players that joined the Phillies. The team skyrocketed from +8000 in World Series odds the previous year to +850, though they only finished fourth in the National League East and did not qualify for the playoffs.
Seager actually helped his team take the largest numerical leap in betting odds. He, along with other recruits, helped the Rangers surge from +15000 in 2021 to +7500 in 2022. That still made them a huge underdog, but also far more likely to win it all than they were before.
On average, the six men helped their teams climb over +3000 in betting odds. Considering that Ohtani is expected to be coveted by the most established franchises in the league, it's unlikely that it will lead to that drastic of a jump. But it remains a near-certainty that the team that lands him will be a major player in World Series futures.
Shohei Ohtani will break World Series odds
Ohtani, 29, may be the giant domino waiting to set off new lines of World Series futures odds, but his Angels are a near-certainty to be out of competition for this year's championship. They have a .1% chance of even reaching the playoffs at the time of writing, per ESPN, and just sent three-time MVP Mike Trout back to the IL.
putting him on pace for 56 at the end of the season
Ohtani has chosen to play through his torn UCL as he continues to pursue Judge's AL home run record, set last year (and which helped him secure the largest MLB contract of all-time). He's hit 44 already, putting him on pace for 56 at the end of the season, six off of Judge's mark.
Baseball's favorite phenom also has a chance to win the Triple Crown. He's 10 homers clear of the next-closest player in the AL (Luis Robert Jr.) and is practically a lock to win that category.
Ohtani is also one of three players in the AL to hit over .300 on the year, though his .304 standard is well behind Yandy Diaz's .326 mark.
The Angels' centerpiece is also third in RBI with 91, just behind Kyle Tucker (95) and Adolis Garcia (93). This could prove to be the toughest category to win since, despite his excellence, the Angels are only 22nd in on-base percentage since the All-Star break, thereby giving him fewer opportunities to drive in his teammates.
MLB free agency opens the day after the World Series, though players cannot sign with teams until five days after the World Series concludes.
(Except for the headline, this story has not been edited by PostX News and is published from a syndicated feed.)