Playing quarterback in the NFL can be something of a mixed bag. On one hand, standing under center brings plenty of fame and fortune. Consider someone like Tom Brady or Patrick Mahomes as proof. The position also comes with a major risk, though. If something goes wrong, the man under center is usually taking the blame.
When you're watching from afar, things seem easy. You take the snap, either hand the ball off or throw a pass, and move down the field. In reality, though, things look quite a bit different.
Want to know what it's really like to take a snap in the NFL? Well, a viral video on social media puts you inside Miami Dolphins quarterback Tua Tagovailoa's helmet for a look at the action.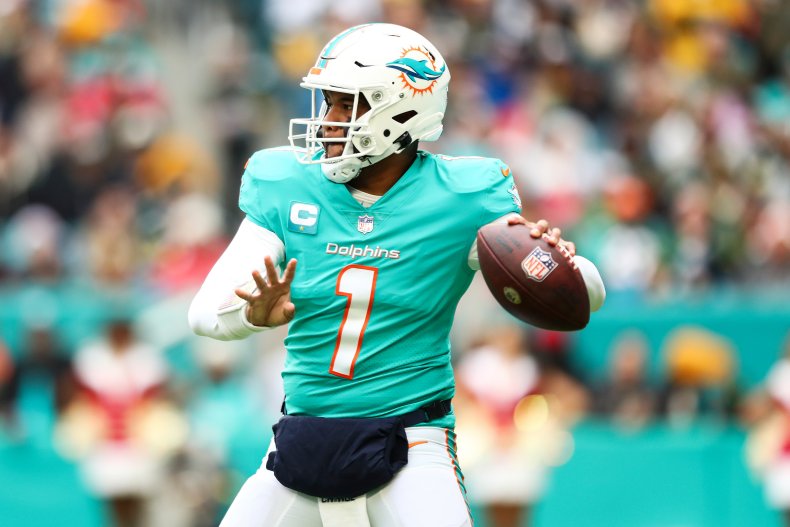 Video puts you under center in an NFL practice
During preseason football games, things can start to drag once the biggest-name players leave the field. That might be a drag for the fans in the stadium, but it does allow TV broadcasts to slip some more interesting segments into the mix. One of those aired during the Miami Dolphins vs. Jacksonville Jaguars contest on Saturday.
The clip, which piled up more than 200,000 views on X, formerly Twitter, shows the view from Tagovailoa's helmet camera as he takes a snap during practice. The signal-caller approaches the line of scrimmage, looks around and calls for the snap. He then drops back to fake a handoff before throwing a pass down the middle of the field.
And, to make things even more impressive, the entire play unfolded in about five seconds.
After the play, viewers got a glimpse inside the huddle before the next play. After that snap, Tagovailoa faked a handoff out of the shotgun, went through his progressions and lofted a pass over the hands of an incoming pass-rusher.
Viewers came away with new perspective
While the video didn't show anything too far outside of the ordinary—if you've watched a full football game, you've seen plenty of comparable plays—seeing things from the quarterback's helmet (literally) provided a new perspective. When you're standing under center, things move quickly. There's only a few seconds to peer through a tangled mass of bodies and make a decision before the pocket collapses.
That reality wasn't lost on those who saw the clip.
"uhhh I am now more amazed the dude ever completes a pass. This is nuts," X user Craig wrote.
User Tefaha had a similar takeaway: "I'm not gonna lie I can't see nada lol."
But simply seeing what was going on wasn't Tagovailoa's only challenge. X user Tavares Johnson noted that the defense mounted pressure on the pocket within a matter of seconds.
"Bro did you not see how fast I think it was Chubb beat that LT," he wrote.
On Reddit, a thread discussing the same viral video offered slightly more verbose comments.
"Somehow if they were able to do this during live games, I think a lot of people would appreciate how insane that position is to play," user RedWingWay noted. As of Monday, August 28, that was the post's top comment with 1.6K upvotes.
"I can see why the average person would not be able to complete a pass in the NFL that's not a screen," user Soyeahnahh added.
A bit further down in the comments, an exchange between two Reddit users perfectly summed up the video's take-home lesson.
"You really can't see a thing…," PattMatricia wrote. Shortly after, rezelscheft replied, noting: "it somehow never occurred to me that the QB can't see what i see. he's got, what, 3 seconds to throw? and it seems like half or more of that time [on play action] is looking backwards at the RB you're pretending to give the ball to."
So, the next time you want to scream at the TV after watching your quarterback take a sack, remember the lesson that Tagovailoa provided. If standing under center is this tough in practice, imagine how challenging things are during a game.
(Except for the headline, this story has not been edited by PostX News and is published from a syndicated feed.)