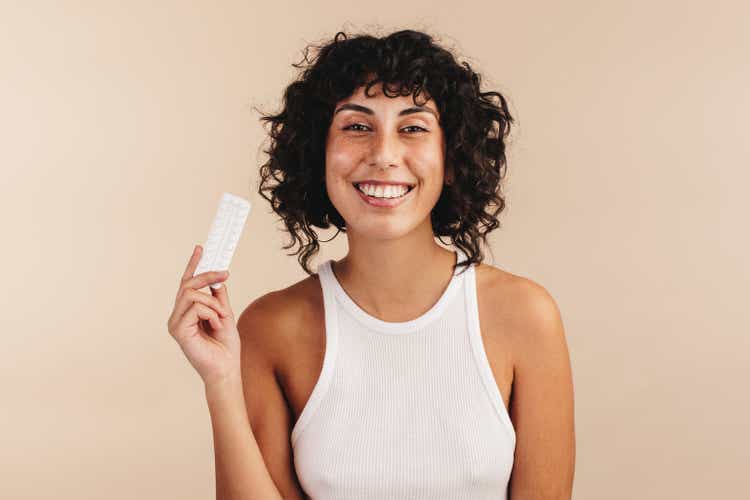 On August 2, Teva Pharmaceutical (NYSE:TEVA) released its second quarter 2023 financial results, which not only beat Wall Street's expectations but continued to show that with Richard Francis taking over as CEO earlier this year, the company's financial position continues to improve.
Moreover, along with growth in sales of Austedo, a medicine for treating chorea and symptoms of tardive dyskinesia caused by Huntington's disease, sales of Copaxone have stabilized despite increased competition in the global multiple sclerosis drugs market.
Teva Pharmaceutical's revenue was about $3.88 billion, exceeding our expectations by $0.14 billion. This was mainly due to higher sales of the company's generic medicines of about $2.27 billion, up 5.4% quarter-on-quarter, despite stiffer competition from Indian pharmaceutical companies. At the same time, its Q2 Non-GAAP EPS was $0.56 per share, beating our earlier prediction by $0.02. Last but not least, the company's quarter-on-quarter EPS growth and beating analysts' consensus estimates have led to a remarkable increase in the price of its shares by more than 14% since the beginning of August.
The company does not stop at the progress made in expanding its portfolio of medicines, and continues to please investors with news about the resolution of numerous legal problems. So, on August 21, Teva Pharmaceutical announced the conclusion of a settlement agreement with the U.S. Department of Justice on a price-fixing case. Under the Deferred Prosecution Agreement, the company will avoid mandatory exclusion from U.S. federal health programs and pay a $225 million fine over five years.
We continue our analytics coverage of Teva Pharmaceutical with an "outperform" rating for the next 12 months.
Teva Pharmaceutical's Q2 2023 financial results and outlook for the second half of 2023
Teva Pharmaceutical's revenue for the second quarter of 2023 was $3.88 billion, up 6% from the previous quarter and up 2.4% from the second quarter of 2022.
The company's revenue growth was mainly driven by increased demand for its generic products. Sales of these medicines in North America in the second quarter of 2023 were $969 million, up 17.6% quarter-on-quarter, driven by continued strong demand for the generic version of Revlimid and biosimilar to Rituxan.
However, one of the main risks for Teva Pharmaceutical is raised competition in the generic drugs market due to the rapid pace of development of the Indian pharmaceutical industry, which is increasing the supply of medicines and vaccines around the world year after year. Price competitiveness and the growth in the quality of the produced pharmaceutical substances have allowed Indian drug manufacturers such as Dr. Reddy's Laboratories (RDY) and Sun Pharmaceutical to compete with Teva and become dominant players in the healthcare sector.
According to Seeking Alpha, Teva Pharmaceutical's Q3 2023 revenue is expected to be $3.71-$3.8 billion, up 0.81% from analysts' expectations for Q2 2023. At the same time, under our model, the company's total revenue will be slightly higher than the upper limit of this range and will amount to $3.82 billion. Maintaining a positive trend in Teva Pharmaceutical's revenue will be associated with continued high demand for its branded medicines, including Uzedy, which became available in the United States in May 2023.
Uzedy (risperidone) is an extended-release injectable suspension approved by the FDA for treating schizophrenia. On the earnings call, Richard Francis announced that healthcare professionals gave positive feedback about this drug.
Now, to remind everybody, this is a $4 billion market, and we've only just launched UZEDY, but we are very pleased with the feedback we're getting from healthcare professionals, and they're confirming that the product profile that we have with UZEDY is unique and advantageous.

Now, we're seeing this in the fact that our NBRx is 40%. So, already, we're getting 40% of the risperidone long-acting market. We're also seeing hospitals look to use our free samples and free trial requests, and we're having good discussions with our payers. So, once again, I think excitement around UZEDY, early days, but initial feedback is very positive.
This is of great importance, as Uzedy will not only play an essential role in improving the company's margins but will also help to close the gap with the leaders in the neurodegenerative drugs market, which formed after the loss of Copaxone's exclusivity.
In the three months ended June 30, 2023, Teva Pharmaceutical began commercializing four generic versions of patented medicines, with total sales of $645 million, which will partially minimize increased competition in the market.
Beyond 2023, we believe that the more active R&D policy being implemented by the new management, aimed at increasing the share of branded drugs in the company's portfolio, will help it return to a leading position in the pharmaceutical industry.
Teva Pharmaceutical's R&D spending was $240 million in Q2 2023, continuing the upward momentum that began in Q3 2022 due to increased experimental medicines being developed to treat cancer, autoimmune and neurological diseases.
We're excited to be bringing our Anti-PD1-IL2 program into the clinic early next year in oncology. We're advancing our Anti-IL15 program in celiac disease through our Phase 1 studies, and we have initiated a proof of mechanism study this year. We're excited to be in our Phase 2b study of TL1A in IBD, and we've already started our Olanzapine LAI study, which is actually enrolling very well. And we'll be starting our ICS/SABA Phase 3 program next month.
So, TEV-48574 is a key gem in the company's portfolio, which is being developed for treating inflammatory bowel disease and continues to demonstrate excellent efficacy in vitro studies.
Despite continued inflationary pressures, Teva Pharmaceutical's operating income margin was 17.28% in Q2 2023, up substantially quarter-on-quarter due to higher sales of Austedo and Ajovy. Moreover, according to Seeking Alpha, the company's EPS in the third quarter is expected to be $0.57-$0.69, up 15.1% from the consensus estimate for the three months ended June 30.
We believe these expectations are conservative, even in light of the decrease in sales of Treanda (bendamustine hydrochloride) resulting from the growing availability of its generic versions. According to our model, Teva's non-GAAP EPS for Q3 2023 will be $0.63.
Conclusion
On August 2, Teva Pharmaceutical released its Q2 2023 financial results, which not only beat analysts' expectations but demonstrated that demand for innovative medicines like Austedo and Ajovy is growing faster than many on Wall Street expected.
The company's management has made tremendous progress in resolving numerous legal issues, including those related to the opioid crisis and the price-fixing case, which ultimately improves its investment attractiveness in the eyes of financial market participants. Teva Pharmaceutical is raising the company's provisions for legal settlements and loss contingencies quarterly. At the end of June 2023, these reserves stood at about $4.7 billion, which we estimate is sufficient to settle the remaining lawsuits. As a result, this allows Richard Francis to continue actively developing the company's product candidates to diversify its portfolio of drugs and improve Teva's financial position in the long term.
We continue our analytics coverage of Teva Pharmaceutical with an "outperform" rating for the next 12 months.
Editor's Note: This article discusses one or more securities that do not trade on a major U.S. exchange. Please be aware of the risks associated with these stocks.
(Except for the headline, this story has not been edited by PostX News and is published from a syndicated feed.)