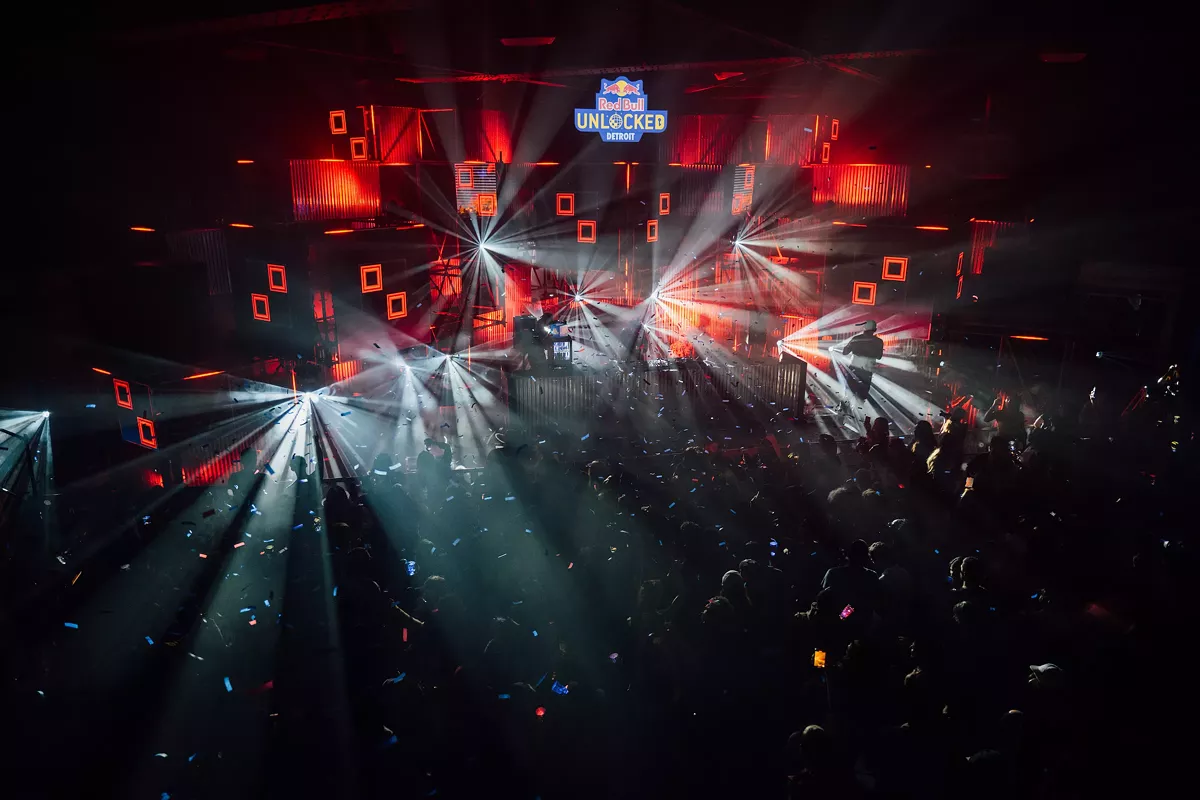 Warning: Reading beyond this point may result in severe FOMO and/or the desire to craft a time machine so that you can snag a ticket to what was the hottest Detroit event of the summer because if you weren't there, well, you did, in fact, miss out, like, on a lot.
Like most cities in the summer, Detroit comes alive with dancing, late nights, good eats, lots of beats, and so much to see. Unlike other cities, however, Detroit is in a league of its own from its bar and club scene, to the tenacious art communities that keep the Motor City looking its best, to the creative and resilient people that occupy it. In other words, Detroit is a cultural playground and, on August 11, longtime champions of Detroit, Red Bull came to play.
Red Bull Unlocked transformed the city's hulking, multi-use creative hub, the Russell Industrial Center, into an immersive and expertly curated Choose-Your-Own-Adventure style event that had an estimated 3,000 people raging into the morning hours and buzzing from the good vibes for days after.
The event, which was for the 21+ crowd, embraced the eclecticism of Detroit's art scene and incorporated interactive art experiences and installations at every turn, all of which made for Instagram-worthy backdrops and tapped some of the city's favorite artists to make the atmosphere come alive.
At the heart of the event, and in true Detroit fashion, was, of course, music. Unlocked saw electrifying performances by internationally renowned and locally loved DJs and emcees including Sky Jetta, SamBeYourself, Chase B, Soulection's Andre Power, and headlining duo, the Knocks who closed out the night with an explosive, upbeat, and summer-field set.
Perhaps the most unique offerings was the physical and immersive recreations of some of the city's most diverse bars and clubs' brick and mortar locations, including Deluxx Fluxx, Apartment Disco, Mutiny Bar, Second Best, and Old Miami, as well as experiences by Detroit's most skilled party purveyors like Paxahau and Haute to Death. Whether you're already in the in-crowd and visit these spots regularly or you're someone who has yet to check off "singing karaoke at Detroit's only tiki bar" off your summer bucket list, Red Bull Unlocked provided an opportunity to experience the best of the best, under one roof, for one dynamic and Red Bull-fueled night, karaoke included, without having to leave the building.
"An unbelievable undertaking that was executed beyond my wildest expectations," John Kwiatkowski, owner of Mutiny Bar said of Red Bull Unlocked. "Best party I've been to all year. The Red Bull team was effective and professional. Never have I seen such a large hat pulled out of such a small rabbit, metaphorically speaking, of course."
For those who prefer making long-lasting and rather permanent memories, Black-owned traveling tattoo shop Ladies of the Ink were in the house and serving up ink-craving attendees — who don't mind a crowd of onlookers — with a variety of fun flash tats, some of which were Motor City-themed because when in Rome, er, Detroit one must consider getting a Detroit-style slice of pizza on their bicep because it is the superior pizza and everyone should know that (sorry, not sorry.) For those who may have needed a fresh fade or wanted to change up their look, the stylists from Ferndale's HareCutz Barbershop were on deck giving people selfie-ready summer styles to slay the party and beyond.
What would a party be without libations? Because Red Bull Unlocked had the drink situation, well, on lock with their Red Bull-focused concoctions, some of which were served in glowing cups to up the ante on the surreal party atmosphere. And what would libations be without some classic Detroit fare to soak it up? In what can only be described as a food flash mob, the folks at Leo's Coney Island made several appearances throughout the evening, waving flashing batons and signs, offering up trays upon trays of hot dogs and gyros for the taking, er, eating. Unlike other sprawling festival-style events, you didn't have to find food, it found you and that detail is testament to how much thought went into pulling off what will go down as the hottest event of the summer.
(Except for the headline, this story has not been edited by PostX News and is published from a syndicated feed.)