Bruins
"I think it's a great challenge and that's what I think people should be excited about."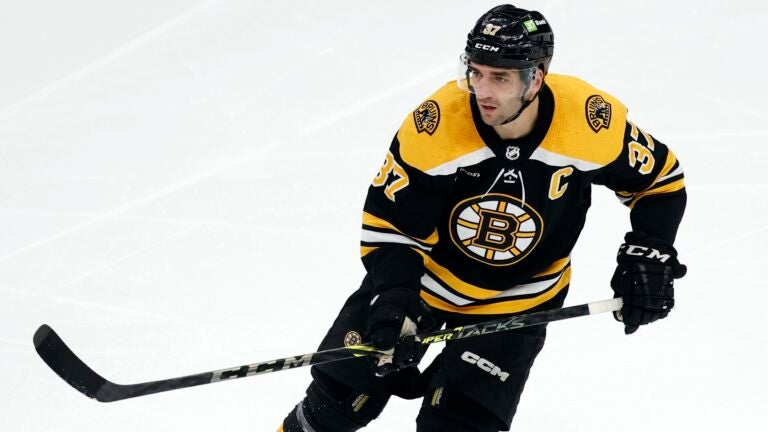 Patrice Bergeron doesn't have plenty of regrets these days.
The former Bruins captain shared that sentiment multiple times during his radio appearance with WEEI's "Greg Hill Show" during Tuesday's WEEI/NESN Jimmy Fund Radio-Telethon.
Whether it be his decision to play in Boston's final regular-season game or his call to hang up his skates this summer, Bergeron is at peace with how he closed out his standout career.
"A lot of signs during the season kind of led me towards that decision at the end," Bergeron said. "But of course, you finish the regular season with the best record ever, you're aspiring [for] great things in the playoffs. Of course it was a very disappointing ending for everyone, especially for us as players having to go through all that.
"So yeah, I guess for a little bit of time I was second-guessing it and kind of thinking, but at the same time, there were too many things and too many signs. Of course the body is number one, and all the mileage I put on myself and the amount of games and amount of years. Unfortunately, it just led me to make the right decision for myself and for my family, and it was to hang 'em up."
Of course, while Bergeron has no qualms with his decision, his exit does create a sizable void on a 2023-24 Bruins roster that has seen a significant core of talent sapped away this summer.
With David Krejci also retiring, Boston is without its 1-2 punch down the middle that helped anchor the team's forward corps for close to two decades.
A severe cap crunch also forced Don Sweeney to deal away winger Taylor Hall and kept the team on the sidelines when players like Tyler Bertuzzi and Dmitry Orlov left in free agency.
Still, Bergeron remains bullish on the Bruins' chances of remaining competitive this season, especially with both Jim Montgomery and a number of established leaders still at the helm in the dressing room.
"I have no worries at all," Bergeron explained. "I think Monty, he's got some experience, he's been around for a long time. He's won at every level and I think also the guys that are there, it's a lot of the same guys coming back … They know what to do. They're going to be themselves and they're going to lead the way they lead and I have no worries about that at all, to be honest with you."
Boston will not be able to replicate both Bergeron and Krejci's playmaking capabilities and two-way acumen.
But even if Boston's offensive firepower take a step back in 2023-24, the Bruins should be able to accrue points at a steady rate thanks a largely intact defensive unit and goaltending combo that led the league in goals allowed per game last winter at 2.12 — well ahead of second-place Carolina (2.56 goals allowed per game).
Add in the return of 60-goal scorer David Pastrnak, other top-six wingers in Brad Marchand and Jake DeBrusk, as well as players with room to grow like Pavel Zacha, and Bergeron believes Boston should be able to remain in the playoff hunt.
"Of course, every year you want to kind of reassess and come together as a team," Bergeron said. "There's always some moving parts. It's the nature of the game that some guys leave and some guys retire as well sometimes. But also some new players coming in and the biggest challenge is to make that gel and come together.
"But I think it's a great challenge and that's what I think people should be excited about. I think they have some guys that they know what direction they want to go towards and I'm sure they're gonna make guys follow suit and Monty's got the brains as far as a hockey coach and the way that he explains, but also he's great to relate to guys and connect with them. So yeah, I think they're in great hands."
As for which Bruin will don the "C" on their sweater now that Bergeron has retired, the future Hall-of-Famer opted to not speculate, adding that the current roster has many deserving candidates.
"I am not worried about leadership on this team," Bergeron said. "I think there's obviously Brad, where I've been with for so long and we have a connection. We're very good friends and I have a lot of respect for him and when he's done and what he's been able to accomplish so far in his career. I think he's got more and more to give.
"Obviously there's Charlie McAvoy, there's Pasta, there's a lot of guys and it's not up to me to decide. I think they're in great hands with leadership and I'll let Monty and the rest of his staff kind of make the decision."
Newsletter Signup
Stay up to date on all the latest news from Boston.com
(Except for the headline, this story has not been edited by PostX News and is published from a syndicated feed.)