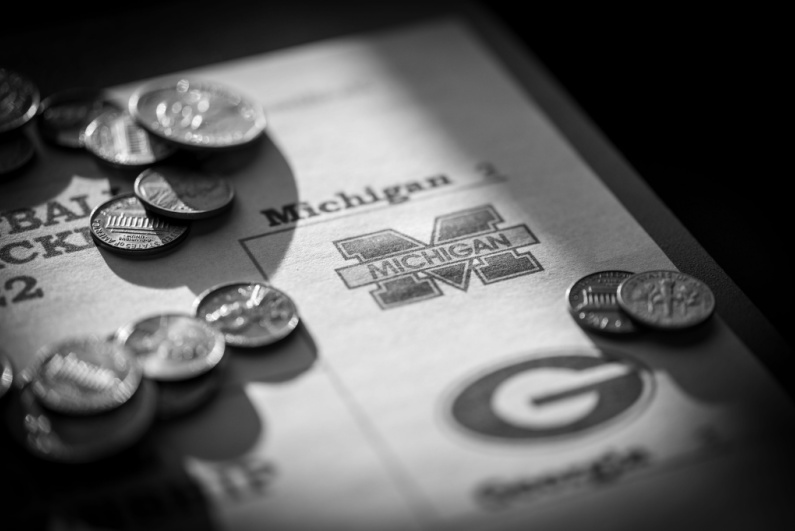 College football playoff odds have Georgia as the favorite, with Michigan next in line. [Image: Shutterstock.com]
NCAAF playoffs odds get a makeover
If you asked NCAA football fans what they thought the national playoff would be six months ago, they would have given you a tried and tested list of the usual suspects. The latest betting odds, however, suggest that the entire landscape is in for a shake-up.
According to several top sportsbooks, the Georgia Bulldogs and Michigan Wolverines are near-locks to get in, whereas the TCU Horned Frogs and USC Trojans are a decent margin behind. The Ohio State Buckeyes and Alabama Crimson Tide are in with a chance but do not control their own destiny.
first-ever national playoff without Alabama, Clemson, or Ohio State
If the projections hold, this will be the first-ever national playoff without Alabama, Clemson, or Ohio State. It will also continue the precedent initiated last season by Cincinnati of lesser-heralded teams reaching college football's grandest stage.
A diverse crowd
According to NCAA football playoff odds provided by FOX Bet, Alabama was the preseason favorite to win the national championship at +185. However, an article discussing the list of top candidates also noted that since 2008, the eventual champions started the year with an average of +1415 odds to win the title.
Georgia was third in the odds, USC was fifth, and Michigan was ninth. TCU was excluded from most sportsbooks' lists of potential future champions and began the year unranked nationally.
the Bulldogs are -160 favorites to win the title
Fast forward a few months, and the Bulldogs are -160 favorites to win the title and repeat as champs, according to FanDuel. Michigan is +300, and both TCU and USC are +1200. Surprisingly, Ohio State is above the final two teams at +1000 despite being ranked fifth in the latest AP poll and having no immediate remaining games.
What could prove to be the Buckeyes' fatal blow came this past weekend in a battle with Michigan, which ended 45-23 in favor of the Wolverines. UM's top two running backs were both plagued by injury or illness, yet they still managed to spring a road upset despite being seven-point underdogs.
That game essentially locked Michigan's place in the playoff, regardless of the result against Purdue in the Big Ten Championship game. Georgia is also practically guaranteed a spot in the final four, though the same cannot be said for TCU and USC.
Determining the final two spots
There is stigma working against teams like TCU – a non-blue blood – that was not as dominant as the other top-ranked schools and does not have a marquee win, despite being undefeated.
have to overcome a negative bias
The Horned Frogs are 5-0 against ranked teams and can bolster their case by beating #12 Kansas State this weekend, but they will have to overcome a negative bias.
A similar phenomenon happened last year when 13-0 Cincinnati came out of the American Athletic Conference and was voted into the playoff. Many believed that their flawless record did not justify holding other Power Five programs out of the playoff, while others felt that they proved their worth by beating everyone in front of them. TCU could be in for a similar fate during the vote of public opinion.
USC, on the other hand, has a rich football history that had been swept under the rug in recent years, until QB Caleb Williams and coach Lincoln Riley came to town this offseason. Many believed that Riley was in for a multi-year rebuild, but the offense has been enough to power the Trojans to an 11-1 record.
USC's next (and potentially final) game will be against #14 Utah, whom they were defeated by already, in the Pac-12 Championship game.
To summarize, the top four teams mostly control their own destiny: win and they are in. If any of them slip up, however, both Ohio State and Alabama could sneak into the field.
(Except for the headline, this story has not been edited by PostX News and is published from a syndicated feed.)