After forming off the Yucatan Peninsula on Sunday, Idalia remains a tropical storm. Yet, it continues to strengthen and is forecast to become a hurricane on Monday. It will continue to head northward, passing over or near Cuba on Monday and will eventually make landfall on the Florida Gulf Coast by Wednesday.
Florida Gov. Ron DeSantis declared a state of emergency for 33 counties on Saturday to prepare for the expected tropical system.
The storm is located about 125 miles south of the western tip of Cuba, producing top sustained wind speeds of 65 mph. It will continue to head north, moving near or over western Cuba on Monday, where Hurricane Warnings are now in effect.
Favorable environmental conditions will fuel its intensification in the next few days. Idalia is forecast to become a hurricane on Monday, but could become a major Category 3 hurricane once it emerges over the warm waters of the Gulf.
The exact path of this system and the intensity of its impacts are still in question, but the latest data suggest this system may make landfall on Florida's west coast around midweek as a hurricane.
Computer forecast model guidance agrees that it will affect Florida and parts of the Southeast this week.
Spaghetti models show it tracking up from Florida to the Carolinas. However, there is still uncertainty about where its eventual path will be. Floridians should stay updated with Spectrum News as details become clearer.
Reconnaissance flights are investigating this system, giving a better idea of what's happening and helping computer forecasts get more data to clarify what may come.
Spaghetti models or plots show a series of individual computer forecast models together on one map. They are useful to give insight into whether multiple models are in agreement on the path of the storm, but they do not address the storm's forecast intensity, winds, flooding and storm surge potential or other data. Tap here for more details on how to best use these models.
Hurricane Warnings are now in effect for Pinar del Rio, Cuba, with Hurricane Watches issued for parts of the Florida Gulf Coast from Englewood to Indian Pass, including Tampa Bay.
Tropical Storm Warnings have been issued for the Dry Tortugas, and Tropical Storm Watches have been issued for the Florida Gulf Coast south of Englewood to Chokoloskee.
Tropical Warnings and Watches are also in effect for the Yucatan Peninsula of Mexico, from Tulum to Rio Lagartos and parts of Cuba.
Rainfall
Heavy rainfall and flash flooding will be possible across the Southeast later this week as Idalia moves inland. The highest rainfall totals are forecast to stretch from the Florida Panhandle through the Carolinas.
We talked to Spectrum News Bay News 9 meteorologist Diane Kacmarik on Saturday about the rainfall expectations in Florida.
"Rain totals will be sharply different from east to west. The highest totals will be along the west coast of Florida, inland areas will have less," said Kacmarik.
Rainfall totals are forecast to exceed 6 inches across a large swath of the Southeast U.S., with locally higher amounts up to a foot possible. Eastern North Carolina could be one area that gets very heavy rain.
Storm surge
Storm surge will also be a threat to areas along Florida's Gulf Coast. Bay News 9 Meteorologist Josh Linker says "predicted high tides this week are already running high due to the moon phase and position."
Storm Surge Watches have been issued for the Florida Gulf Coast from Chokoloskee to Indian Pass, including Tampa Bay.
Linker adds that storm surge could be 3 to 5 feet, especially along the northern Nature Coast up the coast through the landfall point. Some surge and high water is also possible around Tampa Bay, around 1 to 3 feet.
Here is the Q-risq storm surge forecast from Spectrum Bay News 9.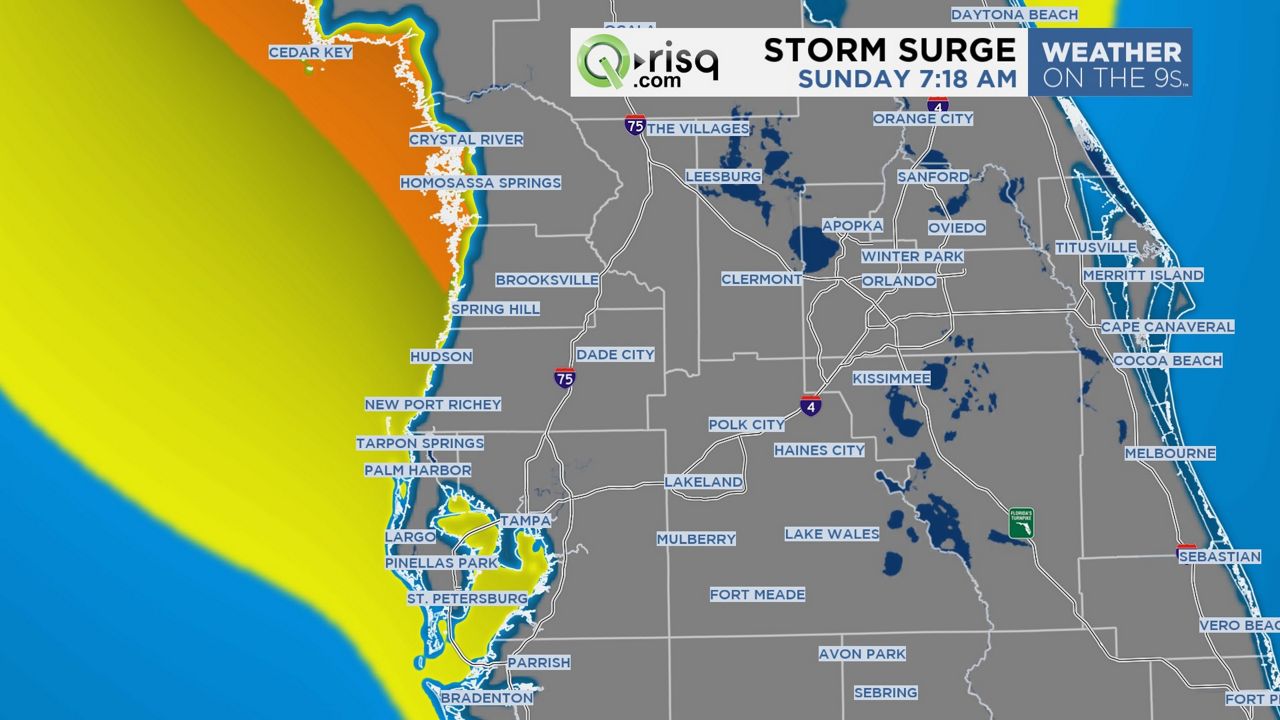 Check here for a look at the 2023 Atlantic hurricane season so far.
Our team of meteorologists dives deep into the science of weather and breaks down timely weather data and information. To view more weather and climate stories, check out our weather blogs section.
(Except for the headline, this story has not been edited by PostX News and is published from a syndicated feed.)