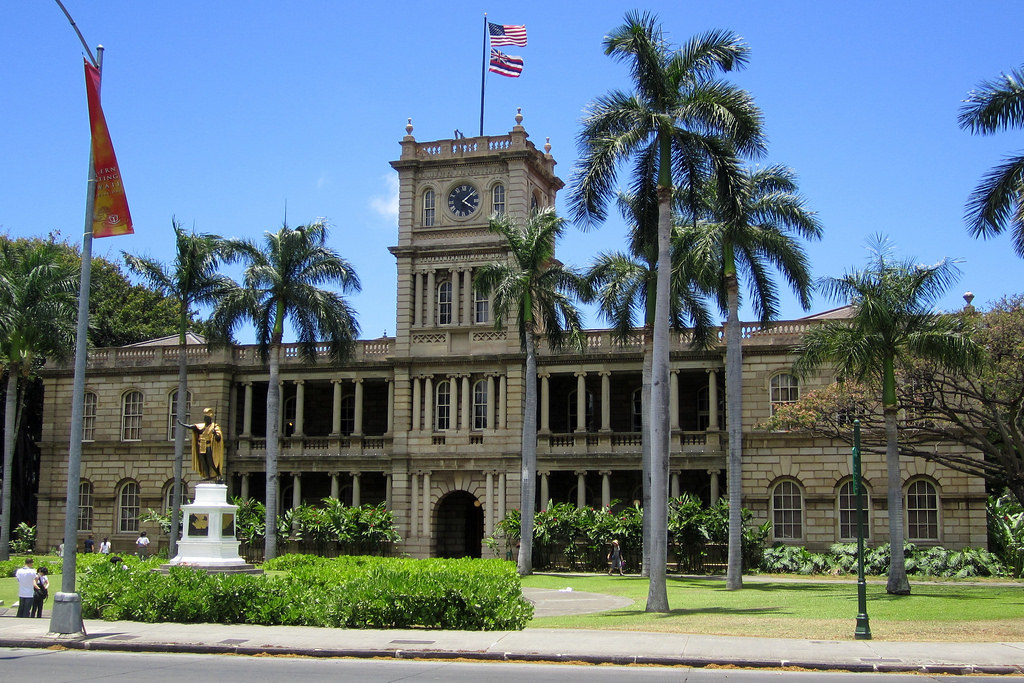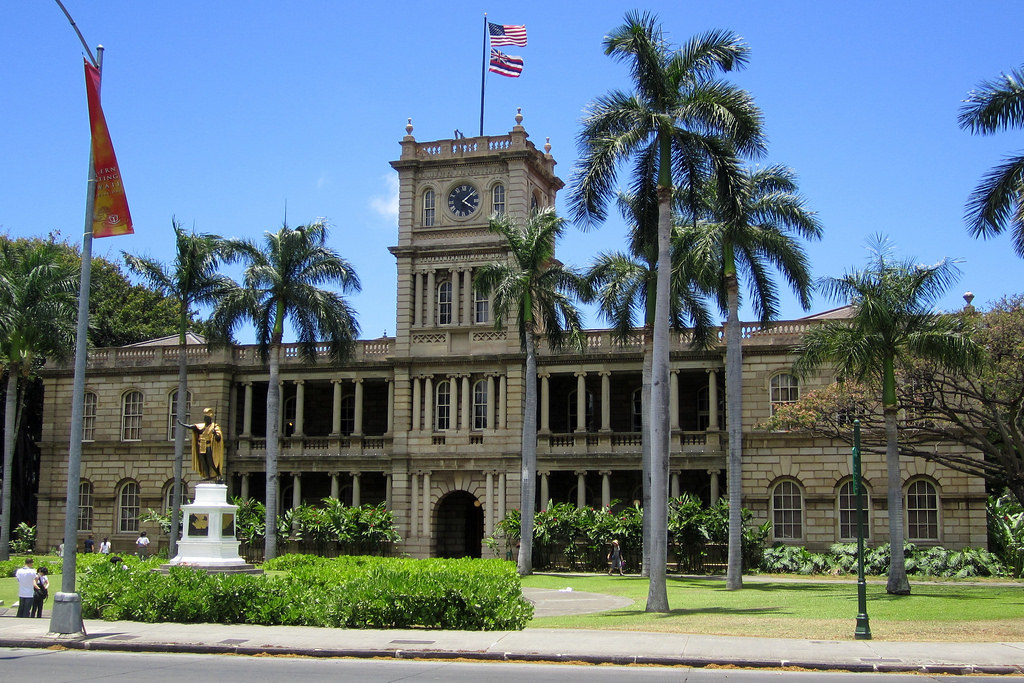 Since 1874, Ali'iōlani Hale has been the home of the Hawai'i Supreme Court. The building was commissioned by King Kamehameha V and built between 1871 and 1874.  The name means "house of Heavenly Kings." Originally designed as a palace, King Kamehameha V instead decided to use it as a government office building for the growing kingdom.  It held the executive offices, legislature and judiciary. The name Ali'iōlani was one of the given names of Kamehameha V. He laid the cornerstone in 1872, but died before the building was completed in 1874. 
Seeking to abolish the Hawaiian Monarchy, the Committee of Public Safety took over Ali'iōlani Hale on January 17, 1893. Queen Lili'uokalani, to avoid violence, abdicated. At the Ali'iolani Hale, the declaration of the Provisional Government of the Hawaiian Island was read marking the overthrow of the traditional Hawaiian monarchy and the beginning of government by American interests which eventually led to statehood for Hawai'i.
After the overthrow of the sovereign in 1893, the legislature and administrative functions were relocated to Iolani Palace, leaving Ali'iōlani Hale for the courts. The Hawai'i Judiciary remains the primary occupant. The King Kamehameha V Judiciary History Center is also located in the building and provides public exhibits and programs related to Hawai'i's legal history.
Ali'iōlani Hale was designed by Thomas Rowe of Sydney, Australia and is constructed of concrete blocks that were cast and fitted to resemble cut stone, with a coral foundation to support the concrete block walls.  The interior features two open rotundas with lantern roofs, and the exterior walls are lined with arched entrances and windows.  The central clock tower is four stories high and has dials facing each of the four directions.
The 150th anniversary of  Ali'iōlani Hale will be commemorated at the 2022 Preservation Honor Awards Ceremony and Reception on October 20, 2022. Click here for information about the event.
Sources:
Aliiolani Hale – King Kamehameha V Judiciary History Center (jhchawaii.net)
Aliiolani Hale: Aliiolani Hale—King Kamehameha V Judiciary History Center of Hawaii – ALOHA HAWAII (aloha-hawaii.com)
Further Resources:
Ali'iōlani Hale was added to the Hawaii State and National Registers of Historic Places in 1972. View the nomination.
window.fbAsyncInit = function() {
fusion_resize_page_widget();
jQuery( window ).on( 'resize', function() {
fusion_resize_page_widget();
});
function fusion_resize_page_widget() {
var availableSpace = jQuery( '.facebook-like-widget-8' ).width(),
lastAvailableSPace = jQuery( '.facebook-like-widget-8 .fb-page' ).attr( 'data-width' ),
maxWidth = 268;
if ( 1 > availableSpace ) {
availableSpace = maxWidth;
}
if ( availableSpace != lastAvailableSPace && availableSpace != maxWidth ) {
if ( maxWidth < availableSpace ) {
availableSpace = maxWidth;
}
jQuery('.facebook-like-widget-8 .fb-page' ).attr( 'data-width', Math.floor( availableSpace ) );
if ( 'undefined' !== typeof FB ) {
FB.XFBML.parse();
}
}
}
};
( function( d, s, id ) {
var js,
fjs = d.getElementsByTagName( s )[0];
if ( d.getElementById( id ) ) {
return;
}
js = d.createElement( s );
js.id = id;
js.src = "https://connect.facebook.net/en_US/sdk.js#xfbml=1&version=v8.0&appId=";
fjs.parentNode.insertBefore( js, fjs );
}( document, 'script', 'facebook-jssdk' ) );
(function(d, s, id) {
var js, fjs = d.getElementsByTagName(s)[0];
if (d.getElementById(id)) return;
js = d.createElement(s); js.id = id;
js.src = "//connect.facebook.net/en_US/sdk.js#xfbml=1&version=v2.5";
fjs.parentNode.insertBefore(js, fjs);
}(document, 'script', 'facebook-jssdk'));


(Except for the headline, this story has not been edited by PostX News staff and is published from a syndicated feed.)

Source