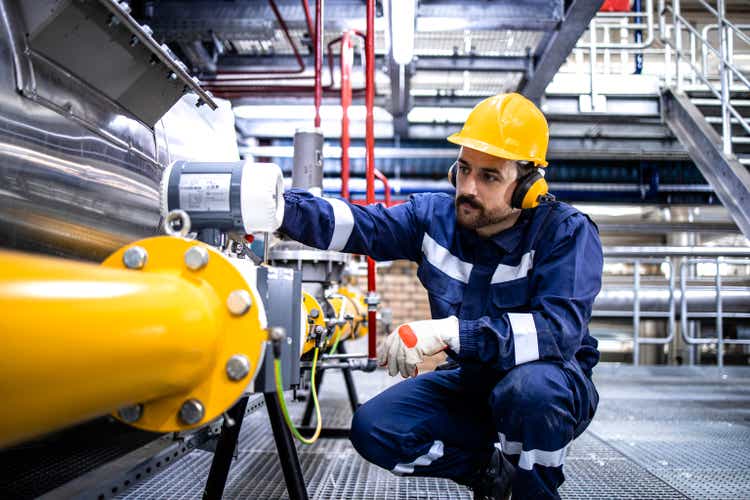 First Trust New Opps MLP & Energy Fund (NYSE:FPL) is a closed-end fund, or CEF, from First Trust that invests primarily in midstream master limited partnerships, or MLPs, and electric utilities. It is one of many such funds from this fund house, and admittedly it can be difficult to tell the difference between them. As is the case with most closed-end funds that invest in master limited partnerships, this one is structured as a corporation so it allows investors to avoid the tax problems that can come with putting tax-advantaged companies into an individual retirement account. It also issues a 1099 as opposed to a K-1, which may save American investors a bit of a headache at tax time.
Unfortunately, as I pointed out in my last article on this fund, the First Trust New Opportunities MLP & Energy Fund has historically underperformed the Alerian MLP Index (AMLP). This continues to be the case today, as we can see here:
The performance gap between the two assets has actually narrowed somewhat since the last time that we discussed the fund. This could be a good sign, but as is the case with most funds that invest in this sector, the First Trust New Opportunities MLP & Energy Fund is substantially undervalued based on the intrinsic value of its assets. This could create an opportunity for investors that should not be ignored. Unfortunately, the fund's yield is only 7.14% as of the time of writing, so it is a bit lower than the index. This could prove to be a bit of a turn-off for those investors who are seeking yield above all else.
Let us investigate and see if this fund makes sense to purchase today.
About The Fund
According to the fund's website, the First Trust New Opportunities MLP & Energy Fund has the objective of providing its investors with a high level of total return. This is not surprising considering that this is an equity fund. As of the time of writing, the fund has 96.90% of its assets invested in common equity, with the remainder in cash: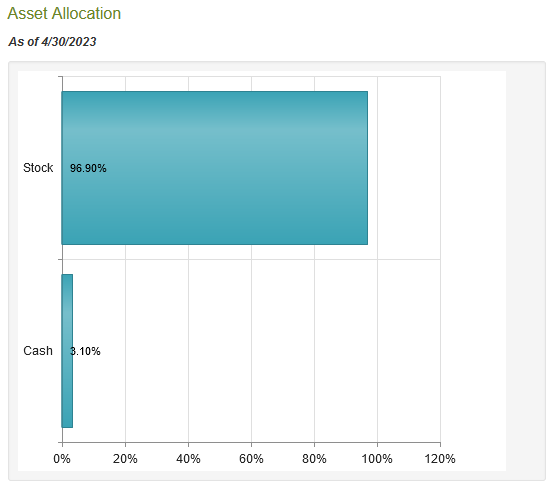 As I have pointed out numerous times before, common equity is a total return vehicle. After all, anyone who purchases the common equity of a company is hoping to receive some income via the distributions and dividends that the company pays out, as well as benefit from capital gains as the issuing company grows and prospers with the passage of time. This is the very definition of total return.
As was discussed in the previous article on this fund, the First Trust New Opportunities MLP & Energy Fund invests primarily in master limited partnerships and utility companies. From the webpage:
"First Trust New Opportunities MLP & Energy Fund is a non-diversified, closed-end management investment company. The fund's investment objective is to seek a high level of total return with an emphasis on current distributions paid to common shareholders. The fund seeks to provide its common shareholders with a vehicle to invest in a portfolio of cash-generating securities, with an emphasis on investing in master limited partnerships, MLP-related entities and other companies in the energy sector and energy utility industries that are weighted towards non-cyclical, fee-for-service revenues. Under normal market conditions, the fund will invest at least 85% of its managed assets in equity and debt securities of MLPs, MLP-related entities, and other energy sector and energy utilities companies that the fund's sub-advisor believes offer opportunities for growth and income."
The one thing that we immediately note in the fund's description of itself, and its strategy, is that it aims to deliver the majority of its total return in the form of direct payments to its shareholders. This is not particularly surprising, since that is how most midstream master limited partnerships deliver the bulk of their total returns. This comes from the fact that these entities are very low-growth and capital-intensive companies. After all, it is incredibly expensive to construct large energy pipelines that traverse fairly large geographic areas. It is also rather time-consuming to construct these pipelines. As such, the market does not assign them the same multiples that it assigns to more rapidly growing companies in the technology or healthcare sectors. These companies have responded by paying out a substantial portion of their cash flows to the investors in order to provide some semblance of an investment return. As most of these companies do not have especially high multiples, the distribution ends up being a substantial portion of the company's equity price. We can see this quite clearly in the fact that the Alerian MLP Index yields 8.15% at the current price. That is obviously far above the yield offered by the S&P 500 Index (SP500) or nearly any other index that someone can name.
As regular readers are no doubt very well aware, I have devoted a considerable amount of time and effort to discussing various master limited partnerships and utility companies here at Energy Profits in Dividends, as well as on the main Seeking Alpha site, over the years. As such, the majority of the fund's largest positions will undoubtedly be fairly familiar. Here they are: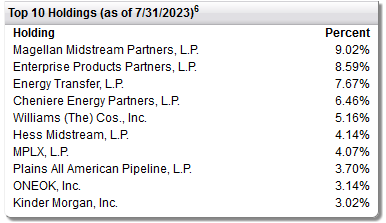 I have discussed every company on this list except for Hess Midstream (HESM) multiple times over the years. As such, most readers should be familiar with them. For the most part, these are all among the largest midstream companies in the United States. As such, the general business model is focused on long-term contracts. I explained how this works in a previous article,
"Basically, the company enters into long-term contracts with its customers. Under these contracts, the company provides transportation and other services for the customer's natural gas, crude oil, and other hydrocarbon products. In exchange, the customer compensates the midstream provider based on the volume of resources that are handled, not on their value. This provides the midstream provider with a great deal of insulation against prices in resource prices. The contracts also usually include minimum volume commitments, which specify a certain minimum quantity of resources that must be sent through the midstream company's infrastructure or paid for anyway. This protects the cash flow of the midstream company against reductions in resource production or demand that may accompany recessions or commodity price declines."
The fact that most of the companies in the fund's largest positions list use a business model that is quite similar to the one that was just described fits pretty well with the fund's goal of investing in companies with non-cyclical cash flows.
At this point, some readers might point to Cheniere Energy Partners (CQP) as an exception to the previous paragraph. Cheniere Energy is the largest producer of liquefied natural gas in the United States. It is not a pipeline operator, despite the fact that it is quite often included in the portfolios of closed-end funds that focus on energy infrastructure (such as this one). The company's business model does provide it with a substantial amount of cash flow stability, though, since nearly all of its output is sold under contracts with large companies like Equinor (EQNR), Shell (SHEL), and other large energy companies. These contracts specify a certain amount of liquefied natural gas to be sold and basically guarantee Cheniere Energy a price that ensures that its margins remain relatively stable. As such, the company does enjoy much of the financial stability that is enjoyed by the pipeline operators that constitute the other largest positions in the portfolio.
The largest positions in this fund are the same as when we last discussed it, although the weightings have changed fairly significantly. This could be caused by one company outperforming another in the market. However, it might also be caused by the fund actively trading stocks in order to adjust its weightings to favor those companies that its management expects to outperform. The fact that the fund has a 57.00% annual turnover suggests the latter. This is about the average turnover for an equity closed-end fund, but it still results in trading expenses that drag on performance.
As already mentioned, the First Trust New Opportunities MLP & Energy Fund has underperformed the Alerian MLP Index in terms of price performance over the past year. However, let us see how it has done in terms of total return:
The above chart compares the fund against the Alerian MLP Index over the past year, assuming reinvestment of all distributions. As we can see, the fund underperformed the index, although it did still manage to deliver a positive return. This is not unexpected considering that the First Trust New Opportunities MLP & Energy Fund lagged in terms of price action and has a lower distribution yield. Unfortunately, there is not a single period exceeding one year in which the closed-end fund managed to beat the index:
| | | |
| --- | --- | --- |
| Time Period | FPL Total Return | AMLP Total Return |
| 1Y | 3.12% | 6.96% |
| 3Y | 99.15% | 124.50% |
| 5Y | -3.44% | 14.10% |
| 10Y | -25.92% | 7.26% |
This is not encouraging, as it almost suggests that there is no reason to purchase the First Trust New Opportunities MLP & Energy Fund over the index. However, it is important to note that these two assets are not a perfect comparison. In particular, there are a few companies that are listed in the fund's largest positions list but are not included in the index. These include The Williams Companies (WMB), ONEOK (OKE), and Kinder Morgan (KMI). All three of these companies are structured as corporations so have somewhat different characteristics. There are some activist investors out there that have been aggressively trying to get the few remaining master limited partnerships to convert to corporations claiming that their market performance would be better after the conversion. There is a certain amount of logic to this since master limited partnerships cannot be easily included in retirement accounts and most funds cannot own them. These two factors mean that a large amount of money is unavailable to put buying pressure on the market price of the partnerships. The fact that the First Trust New Opportunities MLP & Energy Fund can include corporations in its portfolio could thus give it an advantage over the Alerian MLP Index based on this logic, although as we just saw it has not been the case so far.
A major difference between the First Trust New Opportunities MLP & Energy Fund and the Alerian MLP Index is that the First Trust Fund includes electric utilities. In fact, these companies comprise 18.01% of the portfolio: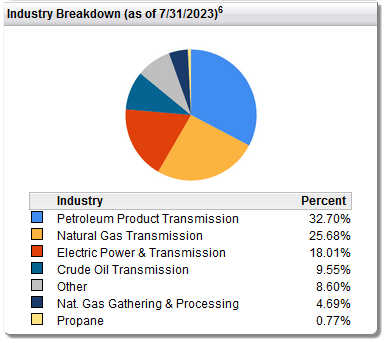 There has been a lot of talk about electrification from politicians, activists, and the mainstream media. The belief is basically that electricity will soon replace fossil fuels for all purposes and render crude oil and natural gas obsolete. I have pointed out numerous times that this is highly unlikely to happen, but it has not stopped the market from discounting crude oil and natural gas companies in favor of electric utilities. All one has to do is look at the fact that pretty much the entire traditional energy industry is undervalued compared to the rest of the market to see evidence of this. As such, the fact that this fund can include electric utilities gives it the ability to take advantage of this current attitude in the market. Once again, the fund has not been able to successfully outperform the market, but the fact that the fund provides exposure to the utility sector as well as the midstream sector may appeal to some investors.
Leverage
One of the defining characteristics of closed-end funds is that they have the ability to employ certain strategies that can boost the effective yield and return of their portfolios beyond that of any of the underlying assets. One of the strategies that is employed by this fund is the use of leverage, which I explained in my previous article on this fund:
"In short, the fund borrows money and then uses that borrowed money to purchase the common equity of master limited partnerships, corporations, and utilities. As long as the purchased assets have a higher total return than the interest rate that the fund has to pay on the borrowed money, the strategy works pretty well to boost the overall yield of the portfolio. Since this fund is capable of borrowing at institutional rates, which are considerably lower than retail rates, this will usually be the case. It is important to note though that this strategy is less effective today with rates at 6% than it was eighteen months ago when rates were essentially 0%. This is because the difference between the total return of the purchased assets and the interest rate that the fund has to pay on the borrowings is much narrower than it used to be.

However, the use of debt in this fashion is a double-edged sword. This is because leverage boosts both gains and losses. As such, we want to ensure that the fund is not employing too much leverage because that would expose us to too much risk. I usually like to see a fund's leverage remain under a third as a percentage of its assets for that reason."
As of the time of writing, the First Trust New Opportunities MLP & Energy Fund has levered assets comprising 20.04% of its portfolio. This is actually a bit less than the last time that we looked at this fund, which is probably due to its assets being a bit higher than they were back in April. Overall, though, it appears as though the fund is striking a very reasonable balance between risk and reward.
Distribution Analysis
Without a doubt, the biggest reason why most investors purchase shares of master limited partnerships is because of the very high yields that they typically pay out. This is a practice that usually follows them following the conversion to a midstream corporation, as companies like Kinder Morgan and ONEOK boast very high yields despite having converted. The First Trust New Opportunities MLP & Energy Fund collects the dividends and distributions paid out by these companies and even uses a layer of leverage to boost them. It then pays them out, along with its capital gains, net of expenses to its shareholders. As such, we can probably assume that this fund will have a very high yield. This is certainly the case as the fund pays a monthly distribution of $0.0375 per share ($0.45 per share annually), which gives it a 7.14% yield at the current price. Unfortunately, this fund has not been particularly consistent with its payout over the years. We can see that quite clearly here:
Indeed, we can see that the fund started off well, but it has been gradually cutting its distribution since 2018. This is not really atypical, as many midstream funds have been forced to do the same thing due to changes that occurred in the sector ever since the crude oil bear market in 2015. I discussed these changes in numerous previous articles. Fortunately, new investors do not really have to worry about the fund's past cuts because they will not be affected by them. Rather, the most important thing for anyone buying today is the fund's ability to maintain its current distribution. Let us investigate that.
Fortunately, we have a relatively recent document that we can consult for the purposes of our analysis. As of the time of writing, the fund's most recent financial report corresponds to the six-month period that ended on April 30, 2023. This is a much newer report than we had available to us the last time that we discussed this fund. This is nice because it should give us some idea of how well the fund was able to take advantage of the market strength during the first half of this year, although as I pointed out before that strength was mostly confined to just a handful of stocks that would not be included in this fund. Nevertheless, the Alerian MLP Index was up 4.75% in the first four months of 2023:
The fund was hopefully able to take advantage of this and earn some capital gains.
During the six-month period, the First Trust New Opportunities MLP & Energy Fund received $2,033,721 in dividends and $87,571 in interest from the assets in its portfolio. This gave it a total investment income of $2,121,292 over the period. The fund paid its expenses out of this amount, which left it with $1,070,121 available for shareholders. As might be expected, that was nowhere close to enough to cover the $5,288,937 that the fund actually paid out in distributions during the period. At first glance, this could be concerning as the fund was clearly unable to cover its distributions out of net investment income.
However, the fund has other methods that can be employed to obtain the money that it needs to cover the distribution. For example, the fund receives a great deal of money as distributions from the master limited partnerships in its portfolio. This money is not included in net investment income for tax purposes. In addition, the fund may have been able to earn some capital gains during the period, as already suggested. It did, in fact, have some success at this. The fund reported net realized gains of $1,780,624 and had another $2,453,863 net unrealized gains. When combined with the net investment income, we get a total of $5,304,608, which was enough to cover the distribution. With that said, it was barely enough to cover the distribution, but closed-end funds do frequently pay out all of their investment profits, so this is not really a problem with an asset like this.
With that said, the fund's net assets did decline by $1,294,811 during the period after accounting for all inflows and outflows. This was due to the fund buying back $1,310,482 of its own shares during the period. That is something that many master limited partnership and energy infrastructure funds have been doing over the past year in an attempt to prop up their share prices. Many of these funds have been trading at substantially less than their intrinsic value and the fund is attempting to put buying pressure on its shares.
Valuation
Unfortunately, the fund's share buybacks have thus far not been successful at bringing its share price in line with its intrinsic value. The fund is trading at a substantial discount to its net asset value right now. As of August 25, 2023, the First Trust New Opportunities MLP & Energy Fund has a net asset value of $7.30 per share but the shares only trade for $6.36 each. That is a 12.88% discount to the net asset value at the current price. This is not as good as the 13.15% discount that the shares have averaged over the past month, but frankly, any double-digit discount is a fairly good price to pay for any fund. The price thus appears quite reasonable here.
Conclusion
In conclusion, the First Trust New Opportunities MLP & Energy Fund is one of the few ways to easily include master limited partnerships into a tax-advantaged account, such as most retirement accounts. This makes it likely to appeal to many investors considering that most of these companies have remarkably stable cash flows over time and tend to pay out fairly high yields. Unfortunately, this fund has a history of underperforming the Alerian MLP Index and it has a lower yield. While this fund does have a bit more diversity than the index, it is tough to recommend it at present. However, the distribution does appear to be sustainable, and the fund is trading at a very large discount to the net asset value. If that discount closes, shareholders will receive fairly large capital gains. I cannot see any near-term catalyst that would reduce the First Trust New Opps MLP & Energy Fund discount, though.
(Except for the headline, this story has not been edited by PostX News and is published from a syndicated feed.)