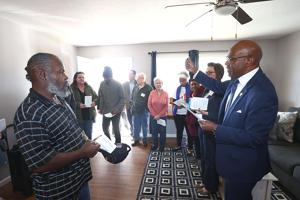 After nearly 15 years, Kevin Dyer is home again.
Dyer, a veteran who served in the U.S. Marines, was one of more than 6 million households who lost their home to foreclosure during the housing crisis that sparked The Great Recession.
He ended up homeless, occasionally living at the Kokomo Rescue Mission, and in 2014, he moved into an apartment Jackson Street Commons, which provides housing for homeless and disabled veterans.
Last April, Dyer told the Tribune he just wanted to be able to relax in his own bathtub again; the Mission and Jackson Street Commons only have showers.
Now, that's possible.
Habitat for Humanity of Kokomo held a dedication and blessing Sunday afternoon for Dyer's new house that volunteers, as well as Dyer himself, spent over a year building on South Diamond Street.
The one-story house has a living room, kitchen, three bedrooms and, yes, a bathtub.
"I feel great," Dyer said, who officially signed the mortgage and other closing papers Tuesday. "It means a lot to me. There's nothing like a house. Apartment living is quite different than this."
For each new home Habitat for Humanity builds, the nonprofit requires at least 250 volunteer hours called "sweat equity" from the soon-to-be homeowner.
Dyer is well past that 250 number. So much so that those at Habitat for Humanity aren't sure exactly how many "sweat equity" hours he's put in. They just know it's well over 1,000, the most ever put in from anyone Habitat for Humanity of Kokomo has built a house for.
Even with that many hours put in and his house complete, Dyer plans on continuing to volunteer for Habitat for Humanity in the future.
"The community has really done a good job giving me what I need," Dyer said. "Kokomo is a good city to be in."
Habitat for Humanity has built nearly 70 homes in the Kokomo area since 1988.
(Except for the headline, this story has not been edited by PostX News and is published from a syndicated feed.)