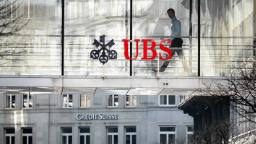 London
CNN
—

Europe's banking stocks tumbled Friday as investors acted on their lingering worries that the recent crises at some banks could spill over into the wider sector.
Europe's Stoxx Europe 600 Banks index, which tracks 42 big EU and UK banks, closed 3.8% lower. The index is down 18% from its high in late February. London's bank-heavy FTSE 100 index closed down 1.3%.
Shares in Germany's biggest bank, Deutsche Bank

(DB), plunged as much as 14.5% before paring its losses to close 8.6% lower. Shares in UBS

(UBS) and Credit Suisse

(CS) were 3.6% and 5.2% down respectively.
The cost of insuring against a possible default by Deutsche Bank on its debt has soared in recent days. Deutsche's five-year credit default swaps (CDS) skyrocketed to 203 basis points Thursday, according to data from S&P Market Intelligence. That's their highest level since early 2019.
The swaps rose again Friday to trade at 208 basis points at midday ET.
German Chancellor Olaf Scholz said Friday that there was "no reason to be concerned" about Deutsche Bank.
"It's a very profitable bank," he told reporters in Brussels, where EU leaders issued a joint statement describing the European banking system as "resilient, with strong capital and liquidity positions."
Deutsche Bank declined to comment.
"The rising price of insuring CDS senior debt is weighing on Deutsche Bank, as well as other European banks, on concerns over the impact of rising rates on the wider economy and banks' balance sheets," Michael Hewson, chief market analyst at CMC Markets, told CNN.
Last week, the European Central Bank stuck with its plan to hike interest rates by half a percentage point, judging that inflation posed a bigger threat to the economy than recent turmoil in the banking sector.
Then, on Thursday, the Bank of England raised its main interest rate by a quarter of a percentage point after data showed a surprise spike in inflation last month.
But Susannah Streeter, head of money and markets at investing platform Hargreaves Lansdown, told CNN that market nerves were out of step with reality.
"Worries about contagion are again rearing up even though more deposits appear to have been flowing into the German lender since the banking scare erupted, and it is thought to have capital reserves well in excess of regulatory requirements," she said.
Some analysts said investors had been rattled by Deutsche Bank's announcement Friday that it would pay back one of its bonds five years before its maturity date. Investors would usually interpret such a move as a sign that a company is in good financial health and able to pay back its creditors early.
But — after two bank collapses in the United States and an emergency takeover of Credit Suisse this month — some investors may have interpreted the announcement as a sign that Deutsche Bank is nervous about the state of the banking sector and trying to overcompensate, Jonas Goltermann, deputy chief markets economist at Capital Economics, told CNN.
Goltermann said the bank's decision "seems to have backfired."
Deutsche Bank's decision to pay back the bond ahead of schedule was pre-planned and not a reaction to recent market developments, a source familiar with the matter told CNN. The bond would have gradually lost its eligibility as a form of regulatory capital according to rules brought in after the 2008 financial crisis, the source said.
The bank replaced the bond by issuing another bond of the same type in February, they added.
Shares of Germany's Commerzbank

(CRZBF) and France's Société Générale also suffered heavy losses, closing 5.5% and 5.9% lower respectively.
Last week, Switzerland's biggest bank UBS bought its embattled Swiss rival for 3 billion Swiss francs ($3.25 billion) in an emergency takeover brokered by the Swiss government.
That helped restore some calm to markets rattled by the failure earlier this month of two US regional banks. But investors were on edge again Friday.
The falls in UBS and Credit Suisse come after Bloomberg reported Thursday that the US Department of Justice was investigating whether their staff had helped Russian oligarchs evade Western sanctions.
The DOJ had sent subpoenas to those employees before UBS took over Credit Suisse, according to the report.
Employees at some major US banks are also part of the probe, Bloomberg said.
Hewson at CMC Markets said "the DOJ probe into UBS is certainly playing a part in the share price weakness" in European banks.
UBS and Credit Suisse declined to comment to CNN.
(Except for the headline, this story has not been edited by PostX News and is published from a syndicated feed.)