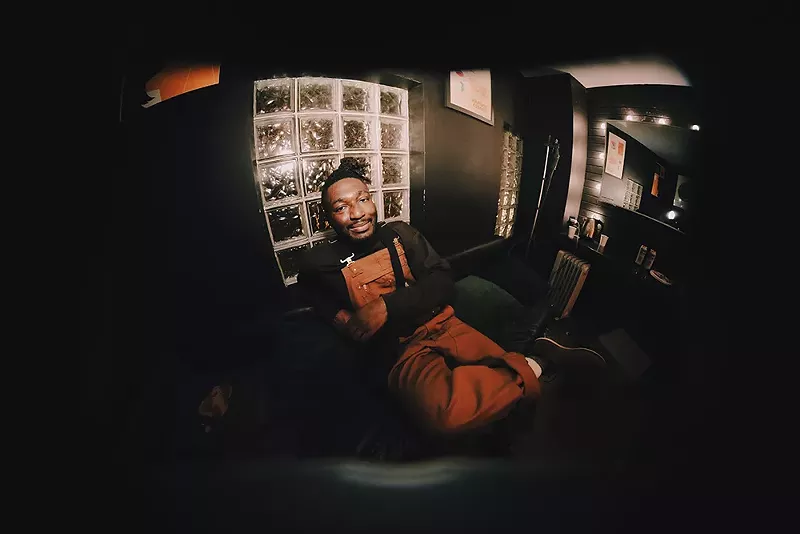 Uplifting. If we summed up Stoop Lee in just one word, that would be it: uplifting.
"[At] the end of the day, I just wanna lift the city up and get people to see what's going on here," the artist, singer, and rapper otherwise known as Ade Olaniran says. "It's bigger than me."
Olaniran particularly wants you to see "what's going on here" in the arts and music scene. He genuinely appreciates what a rising tide would mean for all the metaphorical boats, i.e. the artists, who reside around metro Detroit, and that's why he's concentrated a lot of his energy on forging a deep sense of community with both artists and audiences around the region.
The music Olaniran makes, as Stoop Lee, is also intrinsically uplifting: a cool composite of hip-hop, indie, and electro-pop that weaves in elements of soul and jazz. And while that certainly covers a lot of ground, genre-wise, that's partly because Olaniran collaborates with such a wide range of versatile artists, each similarly operating either inside of multiple genres at once or outside of any genre whatsoever.
"I just have a love for so many different genres," Olaniran says. "I can't help but express all of those when I'm being my truest self as an artist. But it's not something I'm necessarily trying to do or forcing — it just happens." Olaniran says that "the foundations of learning how to make music" goes back to jazz, and to an extent smooth jazz — the radio station Smooth Jazz V98.7 "was played in our house all the time when I was growing up," he says, but as he got older and expanded his pallet, he was drawn to groups that "blurred the lines between hip-hop and soul" like the Soulquarians collective: acts like Common, the Roots, Mos Def, and J Dilla. From there, he was electrified by the emergence of high-energy indie rock groups like Bloc Party in the early 2000s, particularly inspired by the group's lead singer, Kele Okereke, "because I had never seen someone who looked like me making indie rock before, and he was Nigerian, too, so that really resonated with me."
Olaniran's second proper EP, which paid homage to his Nigerian roots, was released in 2016, at the start of his senior year at MSU; he's since released several singles and follow-up EPs, including last year's Yellow Version Tape. But it was while he was still on MSU's campus when he hosted his first spectacle-sized showcase (inside a record shop), pointedly propping up fellow musicians around the Lansing scene. This was all part of his modus operandi: once conditions were safe enough, post-pandemic, Olaniran teamed up with Audiotree to host a blowout of a concert and party in Hamtramck inside Sanctuary Detroit, with a lineup that included five other dynamic, up-and-coming artists from disparate genres, some of whom were Olaniran's fellow resident artists at Assemble Sound.
Last summer, Olaniran took things to the next level, curation-wise, when he hosted the inaugural "Cartoons & Stereo" festival at Bishop Park, combining music and skateboarding, along with what's become a prevailing theme in Olaniran's oeuvre and brand: a pure, simple celebration of discovery coated in a mixture of dream-big nostalgia and resolute optimism.
"You gotta try to stay optimistic, always," Olaniran says. "There's enough negativity in the world as it is. I know that optimism can teeter on the line of naivety, but nothing ever gets done by being pessimistic." He added that he's purposefully tapped back into the restorative serotonin and whimsy that was prevalent in the turn-of-the-millennia-era cartoons that he was exposed to, "because so many of them featured kid protagonists achieving things that were much bigger than themselves," he says. "That mentality never left me. My motto is: everybody eats! That's what I believe. Trying to make it as a musician on my own is ambitious enough as it is, but why should it stop there — why can't I do more? If it doesn't work out, it doesn't work out, but I'm gonna at least try. I have to at least try. I would feel terrible for having these grand ideas and not even attempting them."
Like so many younger artists these days, whether residents at the Assemble studios, or those who've hopped onto a Stoop Lee showcase as of late, Olaniran has had to (re)generate a lot of momentum after a total quarantine put us all on pause. "But it honestly feels like a fresh reset," he said. "Before the pandemic, whenever I tried to get involved in the scene, it felt like there were more gatekeepers, but afterwards it felt like everything was leveled and that there was now more room for people to come in a build new stuff — room for people who were looking for things. It felt like this new world."
That's where you'll find artists like, Ally Evenson, Curtis Roach, Pia The Band, and Whu Else, all of whom are on the lineup for this weekend's show, with Stoop Lee, at El Club. "I really believe in every one of them," Olaniran says. "And they all encapsulate cool new things that are going on in hip-hop, alternative, and indie spaces, so I think that all of them are 'what's next,' and are what people should be checking out as far as those sounds in Detroit, specifically. To me, they're the pillars of those genres in the city right now."
And what do pillars do but lift things up?
Helping to lift up Olaniran's performance and lyricism is his band tha culduhsac — an ensemble of jazz-funk virtuosos mostly made up of old friends from MSU. "I didn't see a lot of people doing [hip-hop] to live music, and when I was leaving Michigan State, my last show there was with the full band," he says. "So coming out of the pandemic, seeing that space was open for a new artist to come and make themselves known, I really wanted to make a splash and make a statement. [With tha culduhsac] it's never just your run of the mill hip-hop or run of the mill rock, it's an entirely different experience altogether."
So, yes…, if you swing by El Club on Friday night, you'll be able to experience a wide range of genres from the succession of sets performed by all the artists mentioned above. But you'll also be able to find that assortment of genres percolating throughout Olaniran's performance, augmented by his band, tha culduhsac, delivering earworm choruses with a pop sensibility, enriched by hip-hop beats, jazz samples, indie-rock guitars, and everything in between — including a surplus of positive energy emanating from the artist at the center of it all.
From the 2023 new Detroit music issue.
Coming soon: Metro Times Daily newsletter. We'll send you a handful of interesting Detroit stories every morning. Subscribe now to not miss a thing.
Follow us: Google News | NewsBreak | Reddit | Instagram | Facebook | Twitter
(Except for the headline, this story has not been edited by PostX News and is published from a syndicated feed.)