Tucker Carlson has demanded an interview with Russian President Vladimir Putin, according to top Kremlin propagandist Margarita Simonyan.
Simonyan, the editor-in-chief of the Russian state-controlled media organization Russia Today (RT), made the comment during a broadcast on state TV channel Russia-1. An excerpt was posted on X, formerly known as Twitter, on Sunday by Julia Davis, founder of the Russian Media Monitor watchdog group.
Conservative political commentator Carlson appeared to receive a job offer from RT in late April, shortly after Fox News announced it would part ways with the longtime host.
Prior to his departure, which was announced on April 24, he had faced criticism from the left on a number of issues, including his criticism of Ukrainian President Volodymyr Zelensky and his stance on the ongoing war in Ukraine, which had earned him praise among Kremlin propagandists.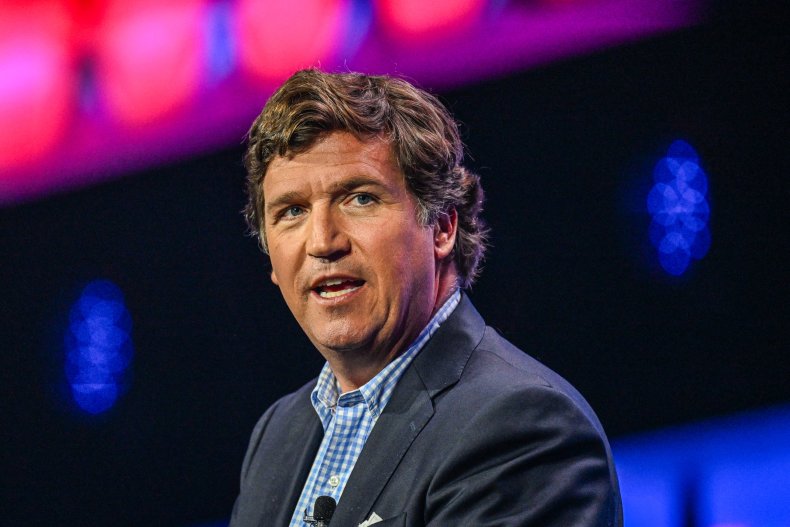 During her TV appearance Simonyan praised Carlson, calling him "the most popular host in all of U.S. history."
Carlson had hosted Tucker Carlson Tonight on Fox News since 2016.
"Tucker is doing a great job. By the way, he's really asking for an interview with Vladimir Putin! It would be great if someone hears this and gets this message to the president," she said.
Carlson hasn't commented on whether Simonyan's claims are true or not.
Simonyan said that despite Carlson's popularity in the U.S., "he was thrown out of Fox News."
"Even though he didn't say anything especially radical! He just didn't sing in tune with the rest of the choir. So they threw him out," she added.
After his departure from Fox News, RT posted on X: "hey @TuckerCarlson, you can always question more with @RT_com," referring to the channel's slogan.
An RT spokesperson told Newsweek in a statement at the time: "We already had the pleasure of working with the greats like Julian Assange and the late Larry King, and had extended an invite to President Trump in 2020, and we continue to welcome outspoken, diverse personalities on our network."
A job offer was also extended to Carlson by Kremlin propagandist Vladimir Solovyov, who hosts Evening With Vladimir Solovyov on Russia-1. He wrote in a Telegram post in April, "Tucker, come join us. You don't have to be afraid of taking the p*** out of Biden here."
Do you have a tip on a world news story that Newsweek should be covering? Do you have a question about the Russia-Ukraine war? Let us know via worldnews@newsweek.com.
(Except for the headline, this story has not been edited by PostX News and is published from a syndicated feed.)