ALLENDALE — South Carolina's rural vote is dying in majority-Black counties across the state.
It's in those obvious places hamstrung by poverty and population loss. But the result, election officials and voting advocates say, is bad for democracy.
In the Pee Dee region last year, Marlboro County Elections Director Christina Thompson and her staff went out to several football games to do voter outreach while hosting voter-registration sessions to educate people on the state's new absentee voting laws and early voting.
Turnout was low and she only got one registration form back.
"As far as new voters, we don't have any major growth with that here," she said.
Marlboro County's total registered voters declined 8 percent from 2018 to 2022 as the county's population also shrank. While cotton once made this area one of the wealthiest in the state before the Civil War, 24 percent of the county's 26,039 residents now live in poverty.
The story is similar in Allendale County, a majority Black county on the state's western border with Georgia.
Elections Director Sonya Prince first began her career as poll worker immediately after she graduated from high school. It was fun, she said. She met many different people and learned the ins and outs of the election process.
She took a job at the county elections office in 2014 as the sole staff member, later recruiting another clerk to assist her. Together, they work out of a small, tan brick office near the courthouse downtown running everything from local special elections to presidential primaries.
Part of the job is checking local funeral home death records and updating voter information provided by the state Department of Motor Vehicles, the South Carolina Election Commission and Department of Social Services.
Drop-ins to register have become rarer as people leave Allendale County, she said.
That slowdown is concerning, Prince said, because people deserve to make their voices heard.
"Look at Ukraine and Russia and all the rest of 'em," she said. "Presidential-wise for the United States, everybody's voice needs to be heard."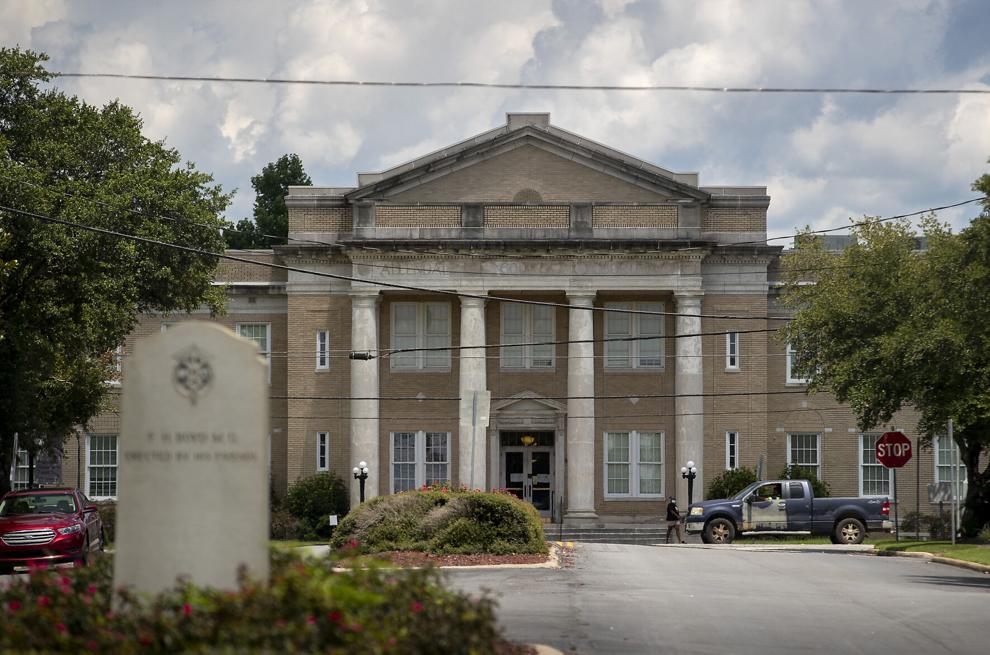 Allendale, the state's poorest county, has seen its population decline nearly 35 percent over the past two decades. As residents left, Allendale's voter rolls shrank 11 percent over the past four years, according to U.S. Election Administration and Voting Survey data.
That comes as crime, corruption and poverty have skyrocketed in recent years in Allendale. The county's median household income is $31,800.
While rural counties across South Carolina are losing their voters, larger, mostly White metropolitan areas are making big gains, in part due to new residents migrating from other states, census data shows.
Horry County, home to Myrtle Beach, saw the biggest increase, trailed by Greenville, Spartanburg, Berkeley and York counties. Election officials have acted to expand local voting offices and access to meet the growth.
The Charleston County Board of Elections opened a new headquarters location in North Charleston Aug. 7. In the Upstate, Spartanburg County is projected to add nearly 40,000 residents by 2030, increasing the total population to more than 331,000 people. Spartanburg County election officials are in the midst of implementing a precinct improvement plan to accommodate the growth the area is seeing, Elections Director John Baucom said.
The county split most of its large precincts, some of which had up to 5,000 voters, to create 14 new precincts. It also consolidated smaller locations for a more efficient distribution of poll workers and equipment, he said, and expanded one part-time staff role to full time.
In neighboring Greenville County, the elections office relocated this summer to a new office building on the same site at County Square. The new building has better security and offers a better voter registration experience, elections director Conway Belangia said.
Not surprisingly, participation in statewide elections mirrors the trend of White suburban voting populations growing and rural Black populations shrinking.
As of 2022, there were 987,665 non-White voters registered in South Carolina and 2,367,656 White voters, according to state Election Commission data.
Non-White voter participation peaked in the state in 2008 and 2012 when former President Barack Obama was elected, and peaked again in 2020 with 705,605 voters, according to Election Commission data.
Two years later, the number of non-White participating voters dropped to roughly half that.
While the voting population shift toward the prosperous counties is evident, population decline in rural Black communities often comes from lack of opportunity for younger voters, or "brain drain" to other areas, said Kendra Cotton, member of Black Southern Women's Collaborative, an advocacy group that works to improve the material conditions of Black people throughout the South.
Losing those residents leads to "a continual hemorrhaging of resources," Cotton said, meaning there is less infrastructure and fewer economic opportunities.
It also creates a gap between municipal officials and voters, she said, meaning the people who win elections are the ones who never left.
"When you see folks leaving the smaller areas, you're necessarily going to have power entrenched in the hands of the few," Cotton said.
Bamberg County is another rural county where young people leave once they graduate high school, Bamberg County Elections Director Athena Moorer said.
The people who are left — the moms, dads and grandparents — are the ones Moorer wants to reach.
Bamberg County, a Lowcountry community battling rising poverty and crime, has seen registered voters decline 8 percent from 2018 to 2022.
From her office in the courthouse annex downtown, Moorer and her assistant are planning voter-registration drives across the county. They've already stopped by Voorhees College in the nearby town of Denmark to give an election equipment demonstration and answer questions. Moorer and her staff are also participating in statewide election-security training.
As the 2024 election draws near, national attacks on election integrity are trickling down into smaller communities like Bamberg.
"We're taking the necessary steps to make sure that our elections have integrity," Moorer said. "That transparency is key there."
(Except for the headline, this story has not been edited by PostX News and is published from a syndicated feed.)