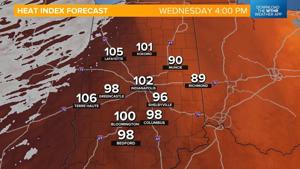 A heat dome is coming to Howard County and the rest of the Midwest, bringing with it heat indexes over 100 degrees this week.
Howard County is under an excessive heat watch beginning 8 a.m. Wednesday and lasting through Thursday.
The high for Wednesday is expected to be 90 degrees, with the high on Thursday increasing to 95 degrees. Heat index values up to 108 degrees over the course of the two days are possible, according to the National Weather Services.
"Be prepared to drink plenty of fluids, stay in an air-conditioned room, stay out of the sun and check up on relatives and neighbors," the NWS said in a press release.
Due to the extreme heat, the city of Kokomo is opening the Kokomo Senior Center from noon to 6 p.m. this week through Friday as a cooling center. The Kokomo Rescue Mission, 321 W. Mulberry St., is also opening its dining room as a cooling center from 9 a.m. to 6 p.m. through Friday.
(Except for the headline, this story has not been edited by PostX News and is published from a syndicated feed.)