Ron DeSantis temporarily paused his 2024 presidential campaign in order to be in Florida to help the Sunshine State prepare for a tropical storm, but his team has denied suggestions he is dropping out of the race altogether.
The Florida governor was due to be in South Carolina on Monday as part of his White House campaign bid, but returned to Florida over the weekend to give a press conference on Tropical Storm Idalia, which is expected to make landfall in Florida sometime Wednesday morning.
During the Sunday press conference, DeSantis confirmed that he would be staying in the state to help with the emergency plans.
"We're locked in on this, we're going to get this job done," DeSantis said. When asked if he's canceling his scheduled campaign events, the governor replied: "I am here, I am here." DeSantis' campaign team has been contacted for further comment.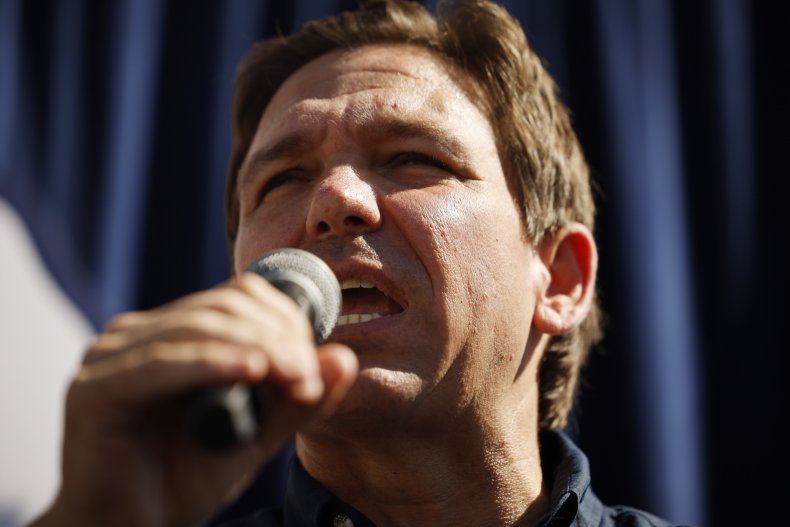 DeSantis' wife, Casey DeSantis, who has joined the 2024 hopeful in several of his campaign stops, attended a town hall in Kershaw and a barbecue hosted by South Carolina Rep. Jeff Duncan in Anderson on Monday on behalf of her husband.
DeSantis announced on Monday that he would be suspending tolls along Florida's west coast in order to make it easier for residents to evacuate the area.
"Anyone who receives an evacuation order needs to make plans to go to a safe area now," DeSantis said. "You do not need to leave the state—travel tens of miles, not hundreds of miles. By waiving tolls, we are easing the burden on families in the path of this storm."
Elsewhere, DeSantis' team has denied suggestions that the Florida governor is ending his campaign entirely. DeSantis, who was once tipped as a potential future president, has seen his 2024 campaign struggle and has failed to make any inroads on the commanding poll leads currently held by former President Donald Trump.
One of those who suggested that DeSantis may soon drop out of the presidential race was Trump himself
"Rumors are strong in political circles that Ron DeSanctimonious, whose Presidential run is a shambles, and whose poll numbers have absolutely crashed, putting him 3rd and 4th in some states, will be dropping out of the Presidential race in order to run, in Florida, against Rick Scott for Senate," Trump posted on Truth Social. "Now that's an interesting one, isn't it?"
DeSantis press secretary Bryan Griffin described the suggestion from Trump as "fake news" in a post on X, formerly Twitter.
"Clearly, Donald Trump and his army of consultants are panicked about Ron DeSantis' winning debate performance and the strong momentum that has followed," Griffin said.
"They know this is a two-man race, and we will carry this on to a win in this presidential primary. Instead of pushing fake news from New Jersey, the Trump campaign should be focused on getting their candidate on the campaign trail in Iowa and on the debate stage before it's too late."
According to FiveThirtyEight's national average poll tracker, Trump is the overwhelming favorite to clinch the GOP 2024 presidential nomination on 49.2 percent, despite the former president's ongoing legal issues, with DeSantis in second place on 14.9 percent.
(Except for the headline, this story has not been edited by PostX News and is published from a syndicated feed.)