A Florida father is charged with manslaughter after killing his 2-month-old daughter by shoving a baby wipe deep down the infant's throat and waiting to call 911, the local sheriff announced on Monday.
Joseph Troy Napier, 30, of Vero Beach, Florida, was arrested and charged with 2-month-old Iris Napier's death on Thursday, more than two years after the infant choked to death on the baby wipe May 28, 2021, according to the Indian River County Sheriff's Office (IRCSO).
After a two-year investigation, Napier has been charged with manslaughter in his infant daughter's death and is currently being held at the Indian River County jail on a $750,000 bond, Sheriff Eric Flowers said during a press conference on Monday. The sheriff said if he could, he would charge Napier with homicide but said investigators didn't find enough evidence to prove that he put the wipe in his daughter's mouth with the intent to kill rather than just keeping her quiet.
"He'd had enough of the crying," the sheriff said. "This is not a good guy. He'd had enough. We've lost a two-month-old infant. Our team has done a great job of proving that he had enough that day. He put that wipe in that child's mouth. He pushed it down far enough that this child choked. It took doctors using forceps to go deep into this infant's throat."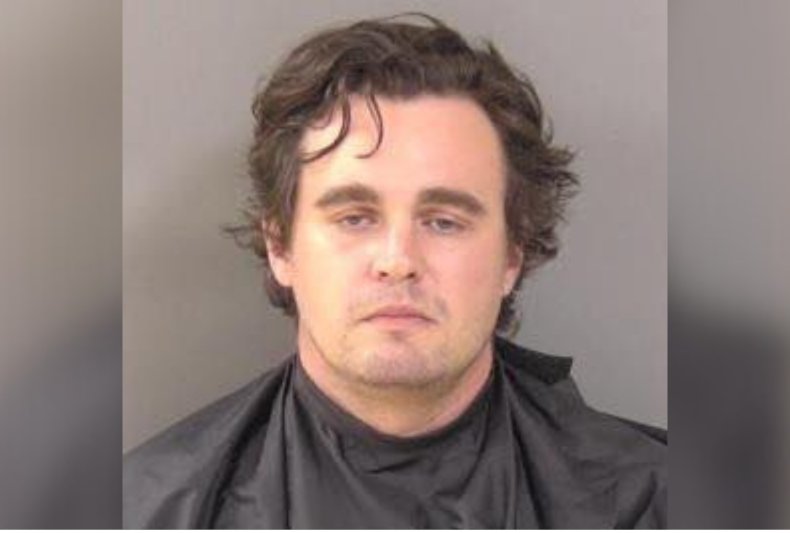 It was unclear at the time of publication whether Napier had retained an attorney. Napier told investigators that he did not harm Iris and said that his 18-month-old daughter put the wipe in the 2-month-old girl's mouth, the sheriff said.
He was the only person at the home with Iris and her sibling when the infant choked to death on the wipe. Iris' mother was at work during the incident, the sheriff said. He did not identify the mom but said she has a "drug problem" and has been arrested.
Newsweek reached out on Monday via email and the IRCSO's website for comment.
Flowers said while the case has taken two years of work, the probe into Iris' death began immediately after Napier called 911 on May 28, 2021, to report that his infant was unresponsive.
When IRCSO deputies arrived at the scene on 6th Avenue in Vero Beach they made contact with the caller, later identified as Napier, as well as his 2-month-old daughter who was "turning blue," according to one of the responding deputies, Flowers said.
The deputy performed CPR and rushed the baby into an ambulance, however, despite the life-saving efforts, she did not survive.
During the preliminary investigation, Napier told deputies that he left 2-month-old Iris unattended with his 18-month-old daughter for roughly five to 10 minutes. When he returned to the room, he discovered the infant was choking, Flowers said. Napier told investigators that he could only see a small white object in the back of the infant's mouth and that she was in distress, but he admitted that he waited five minutes to call for help, the sheriff said.
"He waited five minutes to call 911," Flowers said. "I don't know about you guys. My child's choking, I'm calling 911 right away…Unacceptable, completely unacceptable. So, he knew what he was doing. He knew that he was the cause of this. He was getting his story together."
Detectives later determined that Napier left the children alone for longer than he admitted, and found that he spent at least 30 minutes on his cell phone, making his timeline inaccurate. They also uncovered numerous "complaints" about Iris that Napier sent via text message to the girl's mother while she was at work that day.
Flowers said authorities don't buy Napier's claim that his 18-month-old daughter could have put the wipe in Iris' mouth.
Doctors who worked on Iris discovered that she had a baby wipe stuffed "deep" down her throat, noting that the wipe was "so far down the child's throat" that it would have been impossible for the 2-month-old baby to have swallowed it on her own, Flowers said. Several other doctors told police that an infant that young does not have the motor functions to consume a wipe and "swallow until the point it could not be seen." Medical experts also told investigators that a 2-month-old would still have the extrusion or tongue-thrust reflex, which helps prevent infants from choking, and this reflex would have made it difficult for the baby to inhale the wipe unless it was forced.
"Based on all of the evidence gathered, and in consultation with medical physicians, it was determined that the only person present at the time of the incident that could have placed the wipe that deep in the child's throat was Joseph Napier," Flowers said in an online statement shared Monday afternoon.
The sheriff said the baby wipe caused an airway obstruction and resulted in her death.
Detectives discovered during the probe while speaking with numerous doctors that an 18-month-old toddler would not have the dexterity or hand and arm size needed to shove a wipe that deep into an infant's throat, according to IRCSO.
Flowers said he believed that Napier was fed up with the Iris crying because she had colic.
"Our forensic team has determined that his claims that the 18-month-old child placed a wipe down the throat of this 2-month-old infant, we've proven that that's not possible," Flowers said. "He shoved that baby wipe down her throat to shut her up."
Iris' maternal grandfather, Joe Miller, who also spoke at the news conference, said he agrees.
Miller said he left Iris with Napier to go to dinner with another one of his grandchildren shortly before she died. Miller said he believes that Napier killed the girl because he couldn't handle the crying, saying there was "a lot of anger" the day the girl died.
"As I was getting dressed, Joe [Napier] was screaming at the top of his lungs at the baby, 'Why can't you shut the eff up?!'" Miller said. "That was the last thing I heard."
Miller, who was visibly emotional as he addressed the media, said Iris' death is an open wound that he and his family still carry but said that Napier's arrest brings some closure.
"We struggle with it every day. It doesn't go away," Miller said. "Just like anything else, we like to see closure, too."
Iris' sister, the 18-month-old who is now almost four, has been placed in the care of a family member.
(Except for the headline, this story has not been edited by PostX News and is published from a syndicated feed.)